Add a little something special to your home-cooked meals with these artisanal whole-food, plant-based products. From salt-free spice blends to hearty whole wheat pizza crusts, you'll love the unique flavors, healthy ingredients, and high quality of every pick on this list. While we recommend using as many single-ingredient products as possible, these fantastic finds are in alignment with the WFPB lifestyle so you can enjoy a little worry-free splurge. Apart from jazzing up your own cooking adventures, these boutique products make great gifts for any WFPB foodie in your life. Take a look!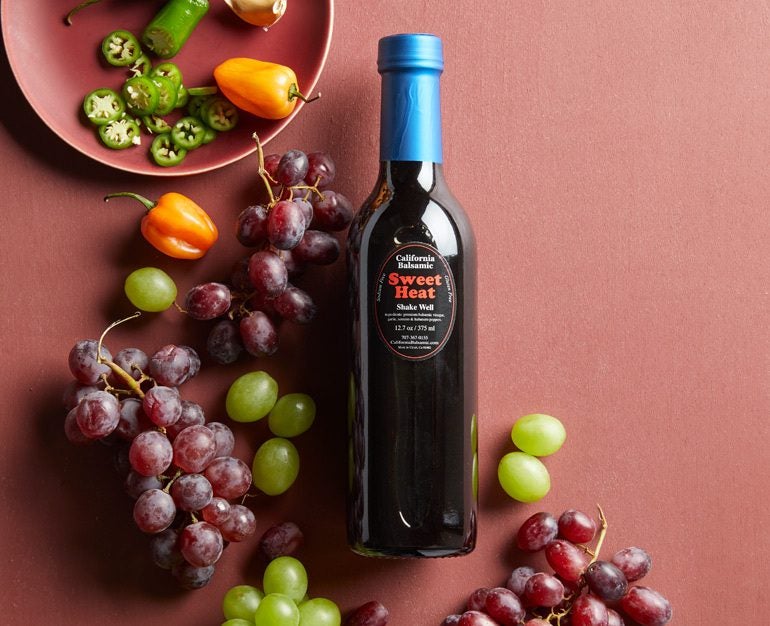 Struggling to cook healthy meals at home?
Forks Meal Planner is here to help.
Customer favorite: 7-Herb Italian Balsamic $10–$25
Hidden gem: Ruby Red Onion Balsamic $10–$25
California Balsamic specializes in olive oils and flavored balsamic vinegars that are free of added salt, oil, and sugar (aka "SOS-free"). The latter have made the company famous among the whole-food, plant-based community. Owner Thomas Allen and his wife, Ethel, used to travel to 85 harvest festivals every year where they would make the majority of their sales. That is, until plant-based powerhouse Chef AJ caught wind of their fantastic vinegars. Since 2018, Allen has partnered with Chef AJ on dozens of her cooking broadcasts and gained a loyal customer base from it.
"Since balsamic vinegar is naturally sodium-free, I made a conscious decision to never add any ingredients that contained sodium," Allen says. "Most of our senior citizen customers liked that policy, and we continue it to this day."
Their SOS-free balsamic line includes dozens of vinegars and sampler sets with unique flavors such as Persimmon Lime, Teriyaki, and Crisp Cucumber. Unlike many larger vinegar companies, California Balsamic is committed to only using fresh ingredients to infuse their products instead of extracts or processed flavors. And if you're a vinegar fanatic, you'll love that they are constantly innovating their line with several new flavors each year. Check out their sampler kits if you want to do a home taste-test.
"We only make 4½ gallons of any given flavor at a time to ensure that our customers always get the freshest product possible," says Allen. "We also offer two free samples in every order so you can always try what's new!"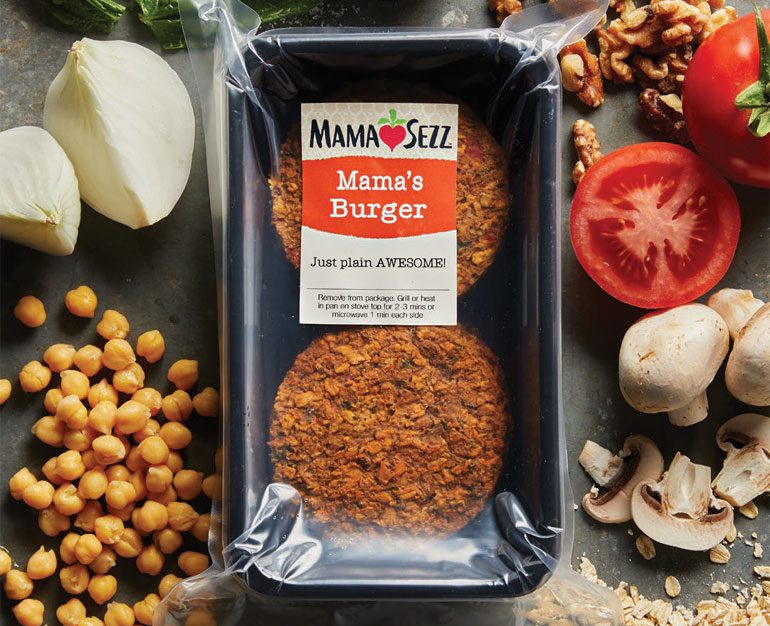 Customer favorite: Mama's Burger (Bundles from $149)
Hidden gem: Ricotta Style Mushroom & Tomato Bake (Bundles from $149)
Mama Sezz is a national WFPB and gluten-free meal-delivery service that sells tasty heat-and-eat meals and kitchen staples (such as sauces and burger patties) in bundles that can be ordered via subscription or just one time. Launched in 2017 by Meg Donahue and her spouse, Lisa Lorimer Donahue, the company offers both curated and design-your-own bundles, most of which cost $169. They estimate that one bundle is enough to feed two people for a week.
While the couple had a background in the food industry prior to founding Mama Sezz, their conversion to a WFPB lifestyle began when they thought Donahue's beloved mother's life was coming to an end. "At 80, my mother was diagnosed with congestive heart failure and had less than 10% total heart function," says Donahue. "We brought her home to my place to give her end-of-life care. I thought we probably only had a few months left, but I started Googling how people survived this kind of diagnosis. I found T. Colin Campbell's research, Forks Over Knives, and Dr. Caldwell Esselystn's work about how a WFPB diet can reverse disease. I started feeding my mom exclusively WFPB meals. Not only did she regain normal heart function, but she's healthier now at 92 than when she was diagnosed!"
After her mother's miraculous recovery, Donahue wanted to keep up this new way of eating. But sourcing and chopping and cooking WFPB meals for her whole family was time-consuming. She looked for a company that offered ready-made meals that only used fresh, WFPB ingredients and couldn't find one—so she took matters into her own hands.
"We have between 50 and 55 products, and they're all made fresh to order every week," Donahue says. "Our products are multi-serving to make things easier for families who want to integrate these foods into their life instead of treating them as a specialty product. The resealable packaging also makes them easy to store so you can mix and match what you eat on any given day."
Mama Sezz is also a zero-waste facility that lets you return your box and packaging for reuse and recycling. Donahue says the health of the planet is just as important as the health of her customers, and that ethic is visible in every aspect of their business.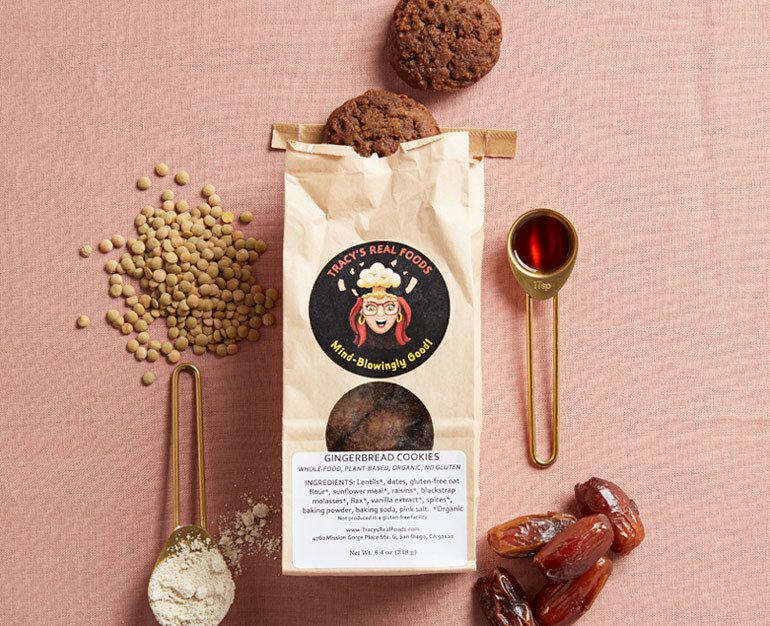 Customer favorite: Double Chocolate Cookies $13
Hidden gem: The All-American Burger $16
Tracy's Real Foods, run by vegan chef and certified nutrition consultant Tracy Childs, specializes in WFPB cookies, muffins, burger patties, and savory snacks. Her mindblowingly tasty offerings pack tons of nutritious ingredients into "convenience foods" that are not traditionally known for being healthful.
"In our world, convenience foods are available at every turn," says Childs. "Unfortunately, the vast majority of them are basically unfit for consumption because they are made from animal parts, oils and other highly processed nutritionally void ingredients. I started my company to provide whole-food, plant-based treats that are nutritionally balanced and delicious because we all deserve some convenience in our lives! Life is full of compromises, but what we eat should not be one of them."
When the COVID-19 pandemic began in early 2020, Childs and her husband doubled down on mail order offerings and haven't looked back since. She says the challenge of making delicious treats out of healthy whole foods is exciting and that her work is fueled by the outlook that all her customers are her friends.
"People often ask me why I'm such a stickler about ingredients," Childs says. "The answer is so simple. I know too much! Food and nutrition are crucial to healthy, happy longevity, and for this reason I have always been particular about what I feed myself, my family, and friends. Bottom line: I will never create products that I wouldn't eat myself and give to those I love."
When you're in need of a quick and tasty snack, Tracy's Real Foods delivers plenty of options that are 100% guilt-free and 100% good!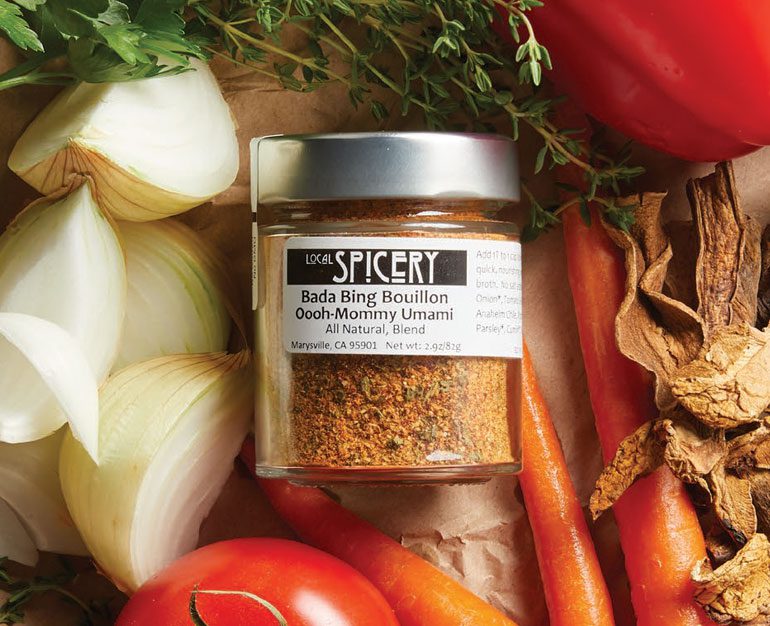 Customer favorite: Sel-acious Salt Substitute $11–$29
Hidden gem: Nick's Mex Mix $10–$26
Local Spicery is a small-batch purveyor of freshly milled spices and fine teas, many of which are intentionally crafted to be SOS-free. With a brick-and-mortar shop in Tiburon, California, and a spice mill nearby, husband-and-wife-duo Nicholas Davoren and Evelyn Wood mill it all themselves.
"We can offer maximum flavor and aroma because we mill only what we need in small batches. If we overestimate quantities, we donate our excess locally," Wood says.
While they've always gravitated toward low-salt or salt-free seasoning blends, their big introduction to the WFPB community, like California Balsamic, began with Chef AJ, who was gifted a Local Spicery product by a friend and loved what she tasted. From there, Davoren and Wood partnered with Chef AJ to continue developing SOS-free spices and serving the plant-based world with their dozens of delicious seasonings. You can even get sample boxes with several different flavors to find your favorite.
"We deliver a product that in many cases is more than a year fresher than the seasonings that most people are used to buying," explains Davoren. "We leverage these big flavors with our own experience cooking whole-food, plant-based meals without added oil or salt. This has been the genesis of blends and products like our Bada Bing Bouillon Powder that was created specifically to meet the challenges of cooking SOS-free."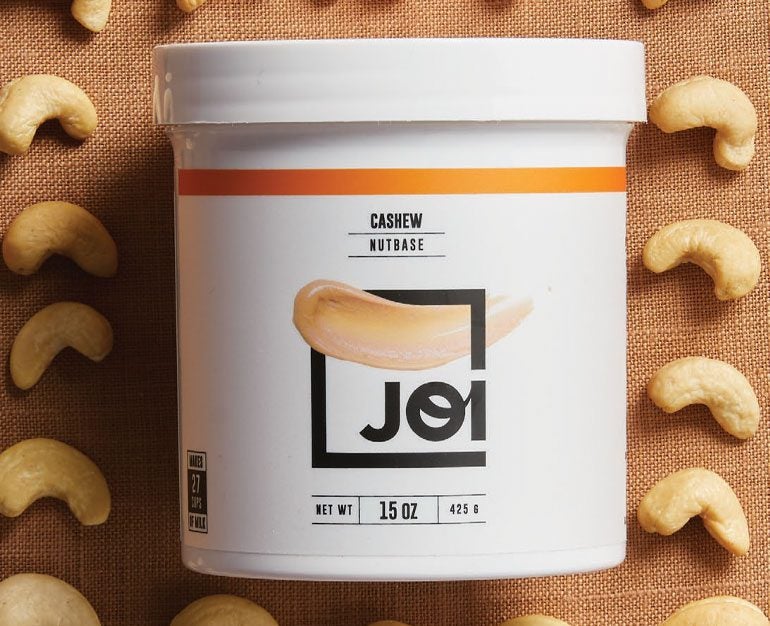 Customer favorite: Organic Oat Milk Powder $16
Hidden gem: Cashew Milk Base $20
JOI was founded in San Francisco by three people who bonded over their love of homemade almond milk while studying together in grad school. What started out as a thesis project evolved into a mission to change the landscape of sustainable, healthy, and delicious dairy alternatives. Their core product line of single-ingredient concentrates make it easy to blend up a batch of fresh nut milk at home by simply adding water to a dollop or two of the base.
"No more running to the store because you ran out of oat or almond milk," says Cristina Krislav, JOI's director of partnerships. "Our shelf-stable bases are right there in your pantry and deliver superior nutrition to what you can purchase at the supermarket."
The company quickly discovered that the WFPB community was an excellent customer base because of their deep commitment to consuming foods free from additives and processed ingredients. Plus, each container of a Joi concentrate makes the equivalent of four to seven quarts of store-bought milk, effectively saving that packaging from getting tossed into landfills.
So when you're craving that homemade taste without the lengthy process of making your own milk, JOI is your one-stop shop for all your nut milk needs.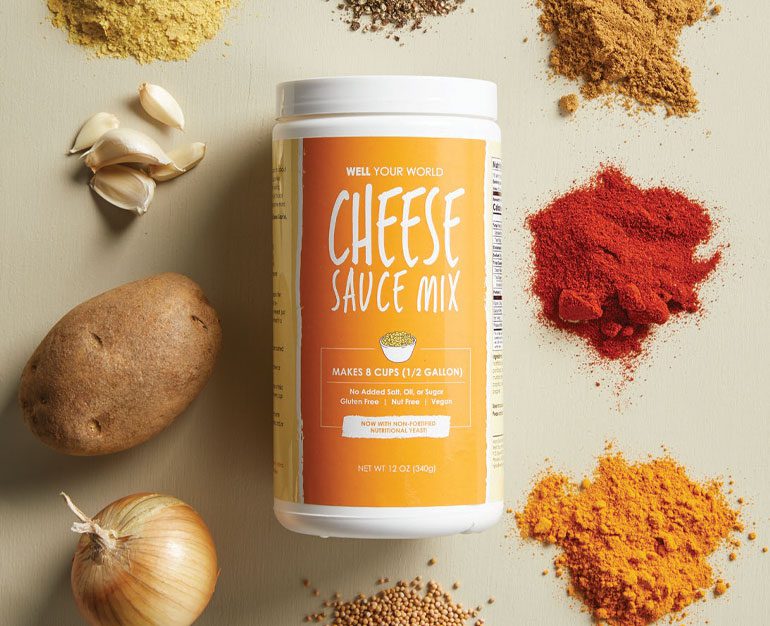 Customer favorite: Cheese Sauce Mix $14
Hidden gem: Pizza Sauce $11
Well Your World is the brainchild of Dillon Holmes, who transformed his life and health with a WFPB diet. He began making YouTube videos in 2017 about his forays into the WFPB world and quickly amassed a loyal following. After leaving his job as a solar energy engineer, Holmes launched his very first product and within a month had sold more than 10,000 units. From there, the business skyrocketed and now boasts a total of 27 SOS-free WFPB products.
"When I got started I just wanted to simplify things for people," Holmes says. "Transitioning to a WFPB diet can be daunting and be presented as a super complex lifestyle. But my whole goal is to take the complexity out of it. Our products are created to save time without pumping your body full of the garbage that's in so many convenience foods. WFPB eaters deserve a little bit of ease since we often cook the majority of our melas ourselves."
In addition to Well Your World's practical line of vegan sauce mixes, jarred pasta sauces, salad dressings, and seasonings, Holmes hosts both free and paid cooking shows on YouTube. Paying members get special access to two shows a month where he makes three to four easy WFPB recipes (which don't require Well Your World products). Holmes says that at the end of the day, he just wants to make this lifestyle accessible for as many people as possible.
"This diet isn't that complex," says Holmes. "I truly think it's less complicated than learning how to cook and prepare animal products. I want Well Your World to help ease the anxiety that can come with making the switch to a healthier lifestyle."
To get a taste of this WFPB goodness, try their popular Cheese Sauce Mix which is made with nothing but nutritional yeast, potatoes, onion, garlic, and five spices. Blend it up with hot water to make a flavorful, creamy topper for macaroni, nachos, and veggies.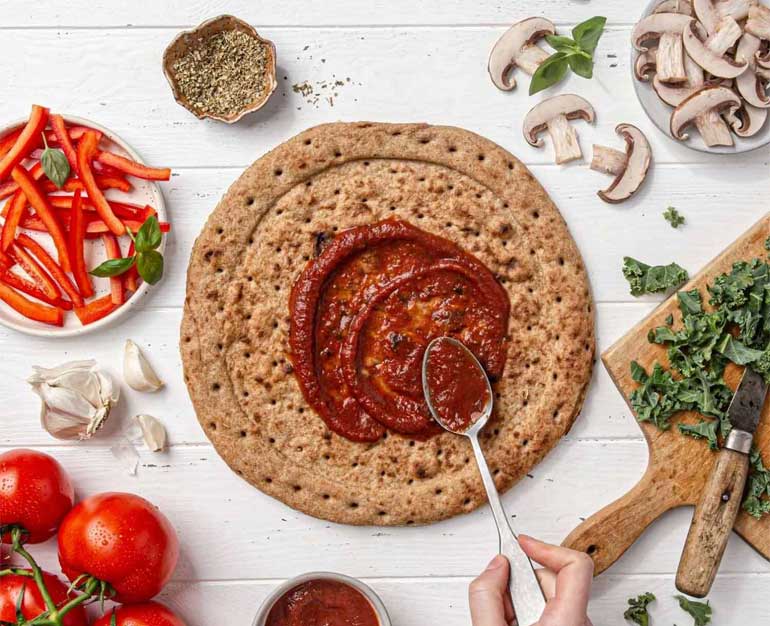 Customer favorite: Organic Pizza Kit $28 (five pack)
Hidden gem: Spanish Style Sofrito Broth $20 (five pack)
Rip Esselstyn adopted a WFPB lifestyle after graduating college to fuel his career as a world-class triathlete, inspired by the groundbreaking research of his father, Caldwell B. Esselstyn, MD, on reversing heart disease through a plant-based diet. In his 30s he joined the Austin Fire Department, and helped transform the lives of his firefighting brothers by introducing them to the benefits of WFPB eating. His success in the firehouse led to the creation of the plant-based product line Engine 2, which was rebranded in 2021 as Plantstrong. The line of oil-free, low-sodium, and added sugar–free broths, stews, cereals, granolas, and meal kits are central to his mission of fighting chronic disease through food.
"Stores are swollen with so-called plant-based products, but things like fake meats and cheeses and microwave meals are contributing to our sinking health," Esselstyn says. "It's almost criminal that people think they're buying something healthy when it's just a bunch of processed junk. The Plantstrong products are in a category of their own. I want to raise the bar and disrupt the hordes of crappy plant-based foods and deliver a solution to people who are looking to use food as medicine."
Plantstrong products are available in 3,000 grocery stores across the country and by delivery through their online store, where you can purchase convenient multi-packs. The Organic Pizza Kits offer five whole wheat crust bases and five packets of pizza sauce to turn homemade pizza night into an easy and healthy activity.
"We're excited to be forging a very unique path in a space that's fraught with health landmines," says Esselstyn. "We want to be a lighthouse for other plant-based brands to inspire them to do better so we don't blow this opportunity we have to take back our health."
To learn more about Esselstyn's journey, you can catch him and his father in the Forks Over Knives documentary.
Editor's Note: Elizabeth Turner contributed to the writing of this article.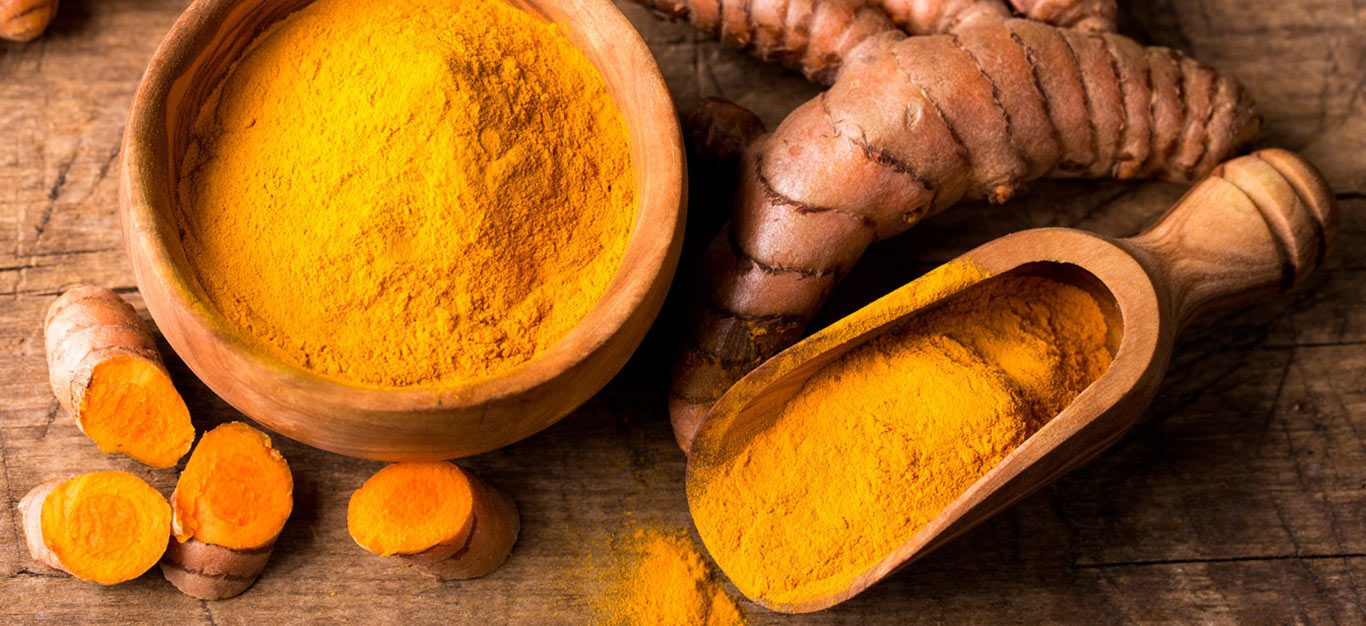 Up Next:


How To
Turmeric 101: What It Tastes Like and How to Cook With It