Most Creative & Famous Fashion Designers Of This Century (Male & Female)
These are the 20 most ICONIC fashion designers of the last 100 years, loved for their obsessive passion and unique creations.
Challenging the boundaries of design and style, these fashion designers have imagined looks that continue to inspire designers and enchant the masses.
In this article, we'll explore a list of the top 20 most FAMOUS fashion designers of all time that continue to influence how we style and dress.
We'll look at the fashion designer's nationality, age, relevant bio, famous quotes, and even their most representative creations to date.
From Coco Chanel's favorite little black dress to Alexander McQueen's unique creations and Ralph Lauren's sporty-preppy styles, we'll see the top fashion designers etched as masters of style and creativity in the history books.
The 20 best fashion designers of the last 100 years are…
---
1
/20
Coco Chanel
CHANEL
France
(1883-1971)
Born Gabrielle Bonheur Chanel on August 19, 1883, in Saumur, France, "Coco" was an exquisite French fashion designer and founder of the well-known CHANEL brand.
At age 12, after her mother's death, Chanel was put in an orphanage by her father and was raised by nuns who taught her how to sew — a skill that would lead to her life's work.
According to an article in The Atlantic, Chanel used to sing in clubs in Vichy and Moulins, where she was nicknamed "Coco" – the shortened version of cocotte, the French word for 'kept woman'.
In the early 1900s, thanks to Chanel's stylish but straightforward clothing designs – instead of painful corsets and complex petticoats – women started to regain their freedom of movement.
According to Coco Chanel:
"Luxury must be comfortable; otherwise, it's not luxury."
Chanel's modern approach to practical design and stylistic simplicity made the fashion designer an influential figure in 20th-century fashion.
Coco Chanel is the only fashion designer named on the Time 100: The Most Important People of the Century.
The best fashion designer on this list, Coco Chanel's unique style is immortalized in pop culture through iconic creations such as the "little black dress" (also known as LBD) …
and "Chanel no. 5. Perfume".
The designer is also behind the Chanel women's suit look, consisting of a slim skirt and collarless tweed jacket worn by Jackie Kennedy, Princess Diana, and Audrey Hepburn.
---
2
/20
Christian Dior
DIOR
France
(1905-1957)
Born on January 21, 1905, in Granville, a seaside town in the north of France, young Christian Dior spent his youth years in Paris.
The French fashion designer experienced the Great Depression, World War 1 & 2, and witnessed his sister being sent to a concentration camp.
Enrolled at the École des Sciences Politiques in 1925 to study political science to find work as a diplomat, Dior's passion for architecture, art, and style eventually prevailed.
Dior's fashion prowess became even more evident at the realization he changed the fashion industry in the post-war ruins of France.
Dior's 1947 "New Look" consisting of voluminous A-line calf-length skirts and fitted bodice waists, contrasted with the war brutality and reminded people of calmer, more relaxed times.
After World War II, the "New Look" revolutionized women's dress and reestablished Paris as the center of the fashion world.
From that point on, the fashion designer used the runway to champion the idea of female empowerment, and his A-line, zigzag-line, Y-line, and H-line silhouettes continue to influence the fashion industry.
With a focus on femininity and high-end women's clothing, Dior is recognized as one of the most influential fashion designers in women's couture and evening wear.
Arguably the most successful fashion designer globally, Dior's designs have been worn by film stars and royalty alike.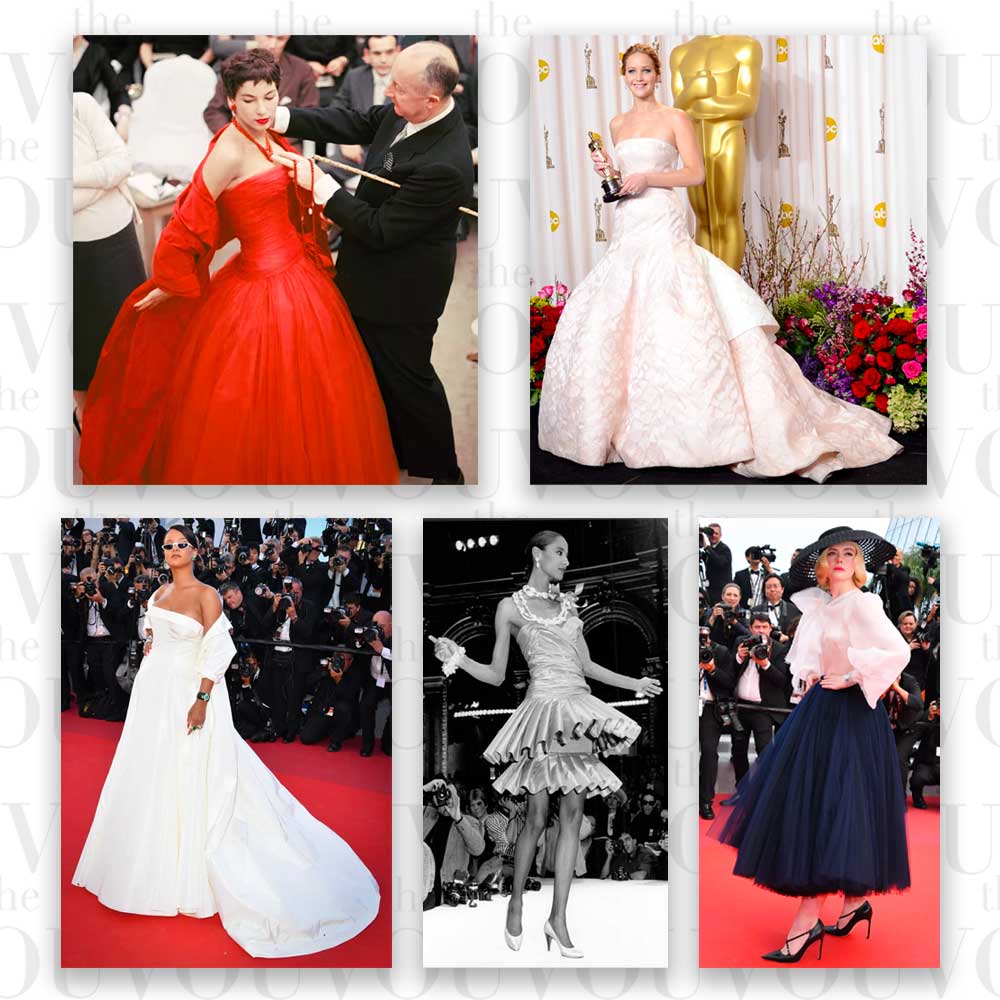 Founded by one of the most iconic fashion designers ever, Dior, the company, continues to operate at the forefront of the fashion industry.
---
3
/20
Karl Lagerfeld
KARL LAGERFELD
Germany
(1933-2019)
Born on September 10, 1933, in Hamburg, Germany, Karl Lagerfeld was one of the world's most acclaimed fashion designers, hailed by Vogue as "an unparalleled interpreter of the mood of the moment."
As a teenager, Lagerfeld worked at Balmain for four years before moving to Jean Patou, where he became artistic director at the age of 21.
Recognized as one of the most influential fashion designers in history, Lagerfeld created for top designer brands such as Fendi, Chloe, Tommy Hilfiger, and his own house, Karl Lagerfeld.
Above all, Karl Lagerfeld is credited with elevating Chanel to global prominence thanks to his solid creative vision, bold designs, and constant reinvention.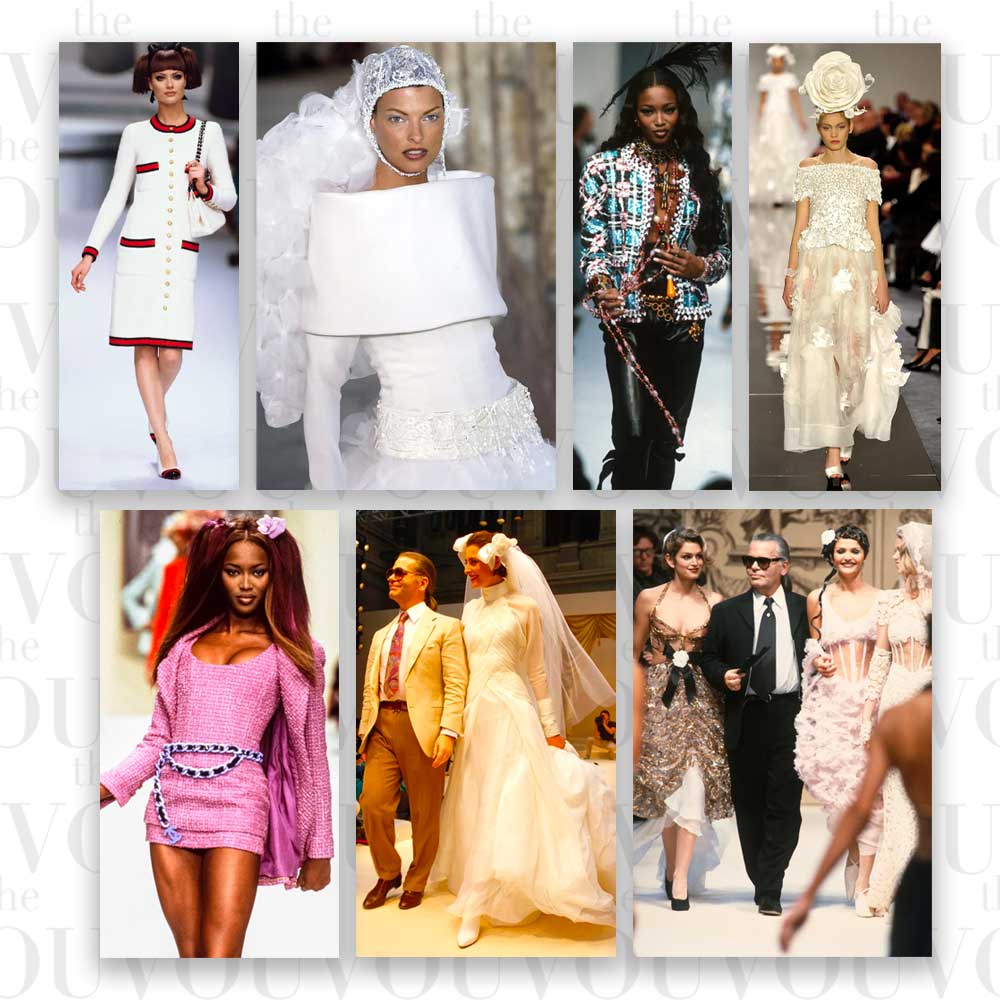 After the iconic fashion designer passed away in Paris on February 19, 2019, Caroline Rush, the British Fashion Council Chief Executive, said:
"Lagerfeld's unrivaled contribution to the fashion industry changed the way women dress and perceive fashion. He inspired generations of young designers and will continue to do so."
---
4
/20
Alexander McQueen
ALEXANDER MCQUEEN
United Kingdom
(1969-2010)
Lee Alexander McQueen was a British fashion designer, born on March 17, 1969, into a working-class family in London's Lewisham district.
From an early age, Alexander McQueen was bullied for his sexual preferences and open homosexuality.
At 16, he dropped out of school to work in Savile Row, a street in London's Mayfair district famous for stores offering made-to-order men's suits, for brands like Anderson and Shephard, Barmans & Nathans, and Gieves and Hawkes.
However, it was McQueen's collaboration with designers Angels and Bermans on theatrical costumes that granted the British fashion fashion designer a 'dramatic signature style' of clothing.
McQueen then left London for a short stint in Milan, where he worked as a design assistant to Italian fashion designer Romeo Gigli.
Upon returning to London, McQueen enrolled at Central Saint Martin's College of Art & Design and received his M.A. in fashion design in 1992.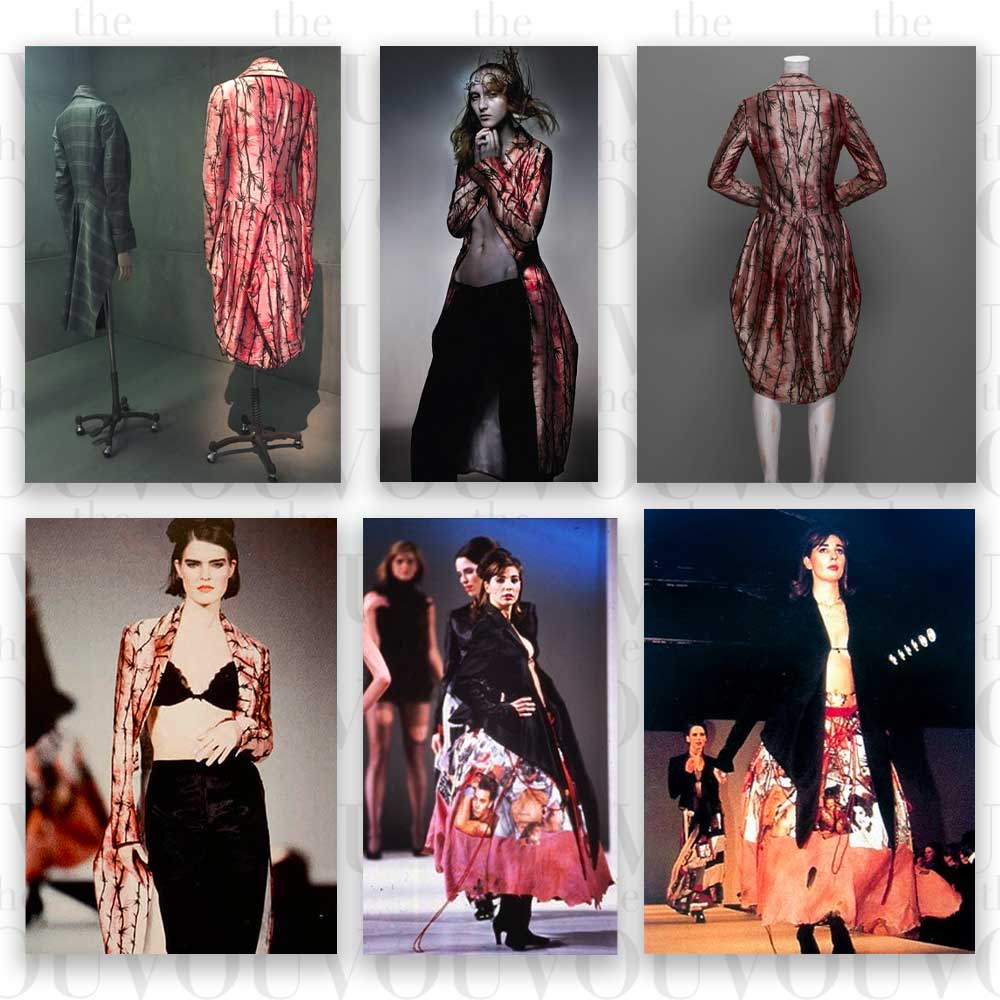 McQueen's degree collection, inspired by Jack the Ripper, was famously bought in its entirety by Isabella Blow, a London eccentric and famous stylist.
Only four years out of design school, McQueen was named Chief Designer of Louis Vuitton-owned Givenchy, a French Haute fashion house.
"You've got to know the rules to break them. That's what I am here for, to demolish the rules but keep the tradition,"
explained McQueen, when asked about the uniqueness of his designs.
Unfortunately, Alexander McQueen took his own life in 2010, shortly after the passing of his mother, shocking the fashion world and beyond.
Yet, Alexander McQueen's unique sense of style and extravagant, iconic creations continue to enchant generations of fashion designers and connoisseurs.
---
5
/20
Donatella Versace
VERSACE
Italy
(Born in 1955)
Donatella Versace is an Italian fashion designer, born on May 2, 1955, in Reggio Calabria, Italy, and the younger sister of the late designer Gianni Versace.
Donatella and Gianni learned about fashion design from their mother, who had a dressmaking business.
Donatella became the artistic director of Versace Group in 1997, the year her brother Gianni Versace – the founder of Versace – was assassinated.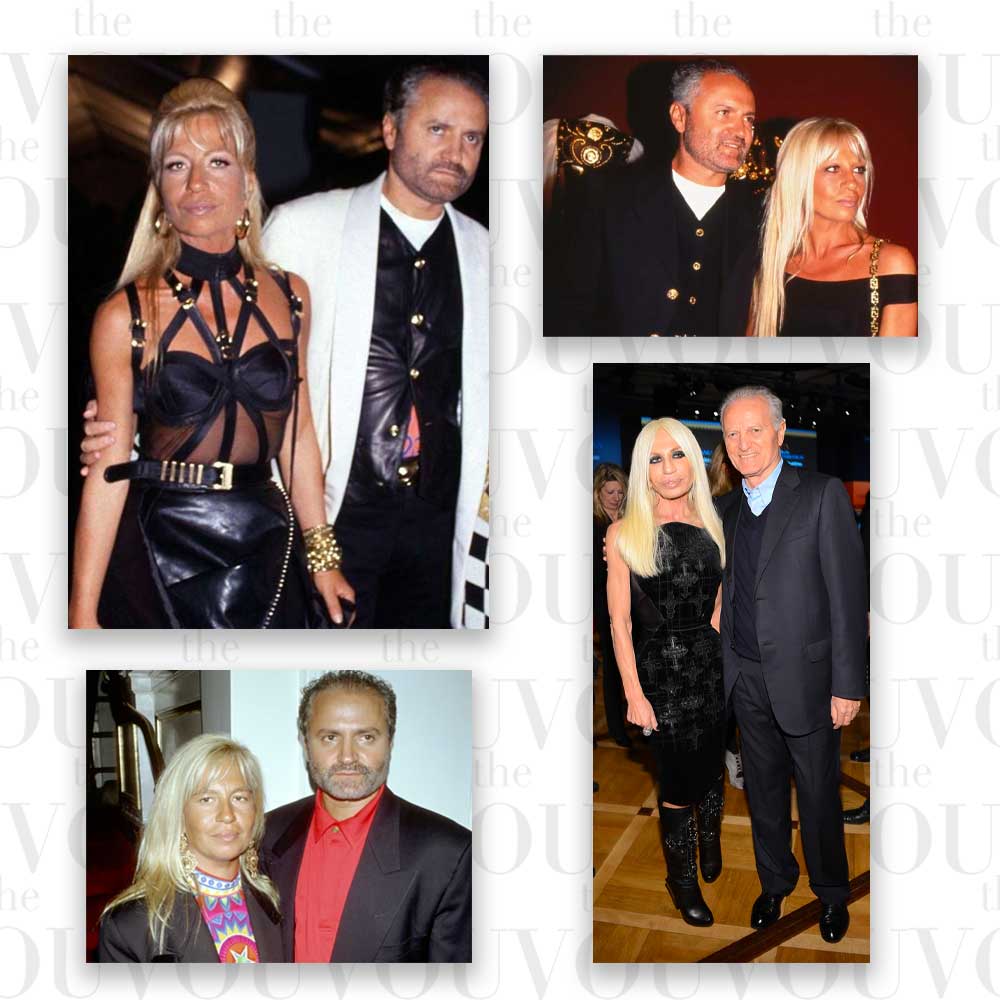 Initially, Donatella added some rock 'n' roll spirit and celebrity vibe to the image of Versace through her friendships with Madonna and Elizabeth Hurley.
Then, the famous Italian fashion designer revitalized the label by using celebrities to walk the runway and designing iconic pieces, such as Jennifer Lopez's "Jungle Dress" worn at the 2000 Grammy Awards, a turning point for her career.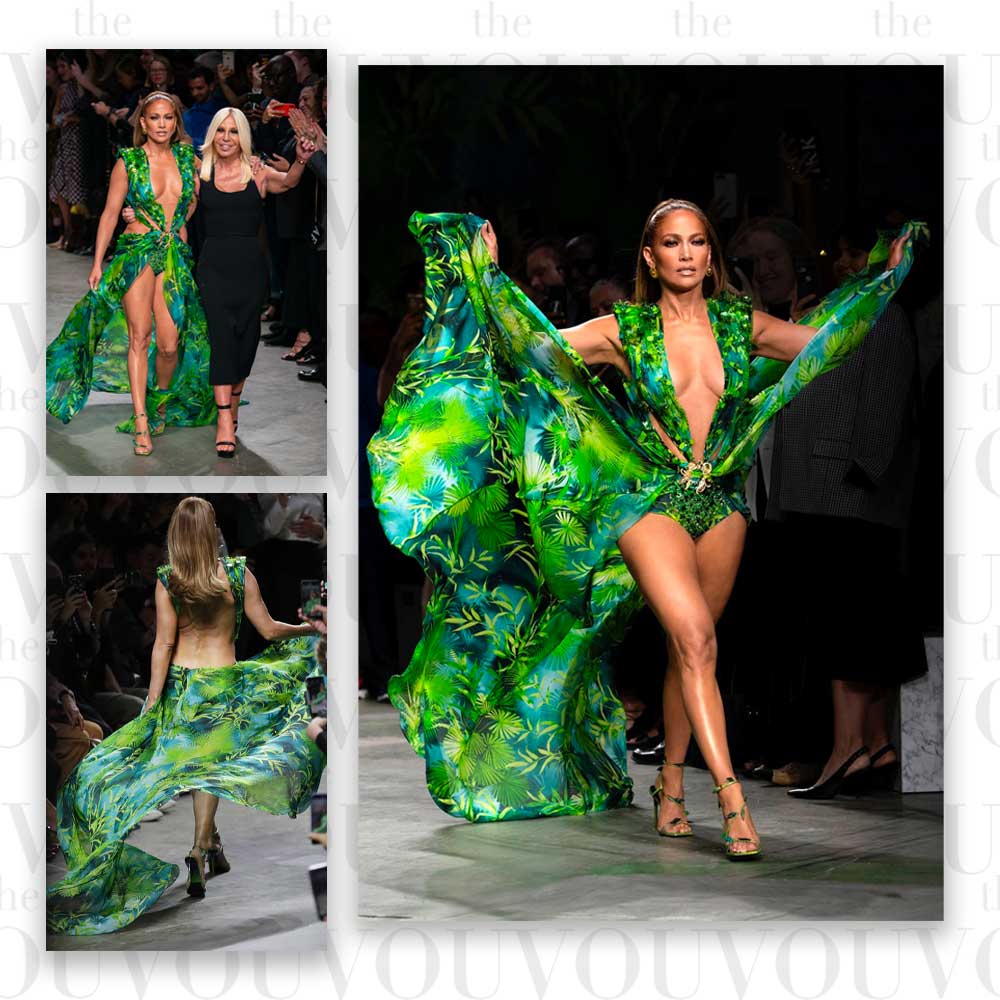 Thanks to devoted supermodels and celebrities who wore her designs, Donatella Versace elegantly merged the fashion industry with the pop culture sphere.
The Italian fashion designer is credited with elevating Cindy Crawford, Linda Evangelista, Christy Turlington, and Naomi Campbell to the status of supermodels.
---
6
/20
Ralph Lauren
RALPH LAUREN
United States
(Born in 1939)
Born Ralph Lifshitz in the Bronx, New York City, on October 14, 1939, Ralph Lauren is an American clothing designer best known for his sportswear line Polo Ralph Lauren, the centerpiece of his fashion empire.
At the age of 16, Ralph changed his last name to Lauren and went on to attend Baruch College in Manhattan, where he studied business for two years.
After a brief stint in the Army, Lauren took on a sales job at Brooks Brothers, where the idea of developing its brand, Polo, and the first product – a line of neckties – started to materialize.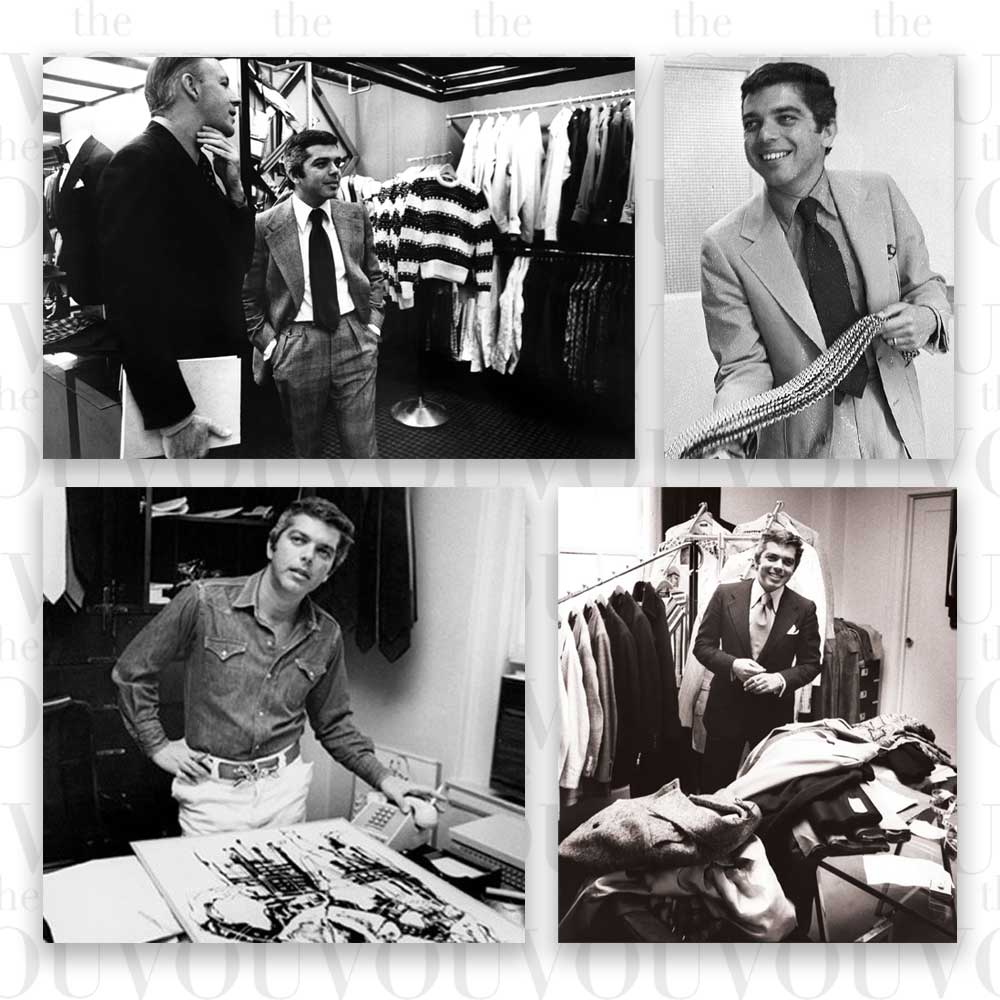 Ralph's distinctive fashion sense is often credited with drawing inspiration from those time's screen icons like Fred Astaire and Cary Grant's preppy wear and vintage looks.
Nowadays, few logos in the fashion industry are as recognizable as the polo player emblem.
Conjuring a blend of English aristocrat and sporty-tailored looks for the American crowd, Ralph's Polo line became the quintessential "Preppy Look" from the 1980s fashion to the 2000s.
From a small 1967 office in the Empire State Building to a $7 billion fortune, Polo is now an international business empire that includes fragrances, home furnishings, luxury clothing, and dining based on the aspirational aesthetic of upper-crust life.
---
7
/20
Yves Saint Laurent
SAINT LAURENT
France
(1936-2008)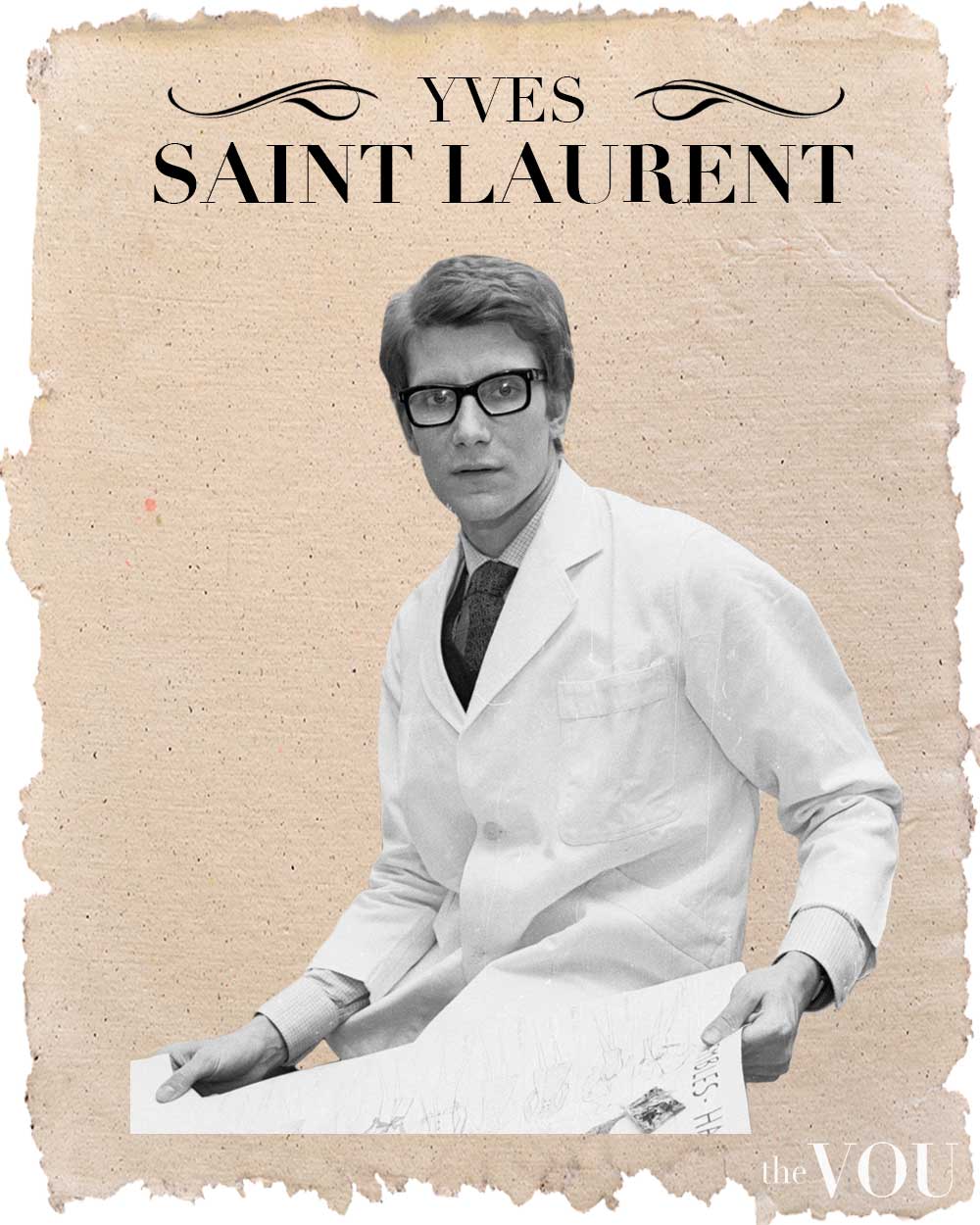 Born Yves Henri Donat Mathieu-Saint-Laurent on August 1, 1936, in Oran, French Algeria, Yves Saint-Laurent is celebrated as one of the greatest fashion designers of the 20th century.
As a teenager, Yves Saint Laurent moved to Paris and began working for Christian Dior.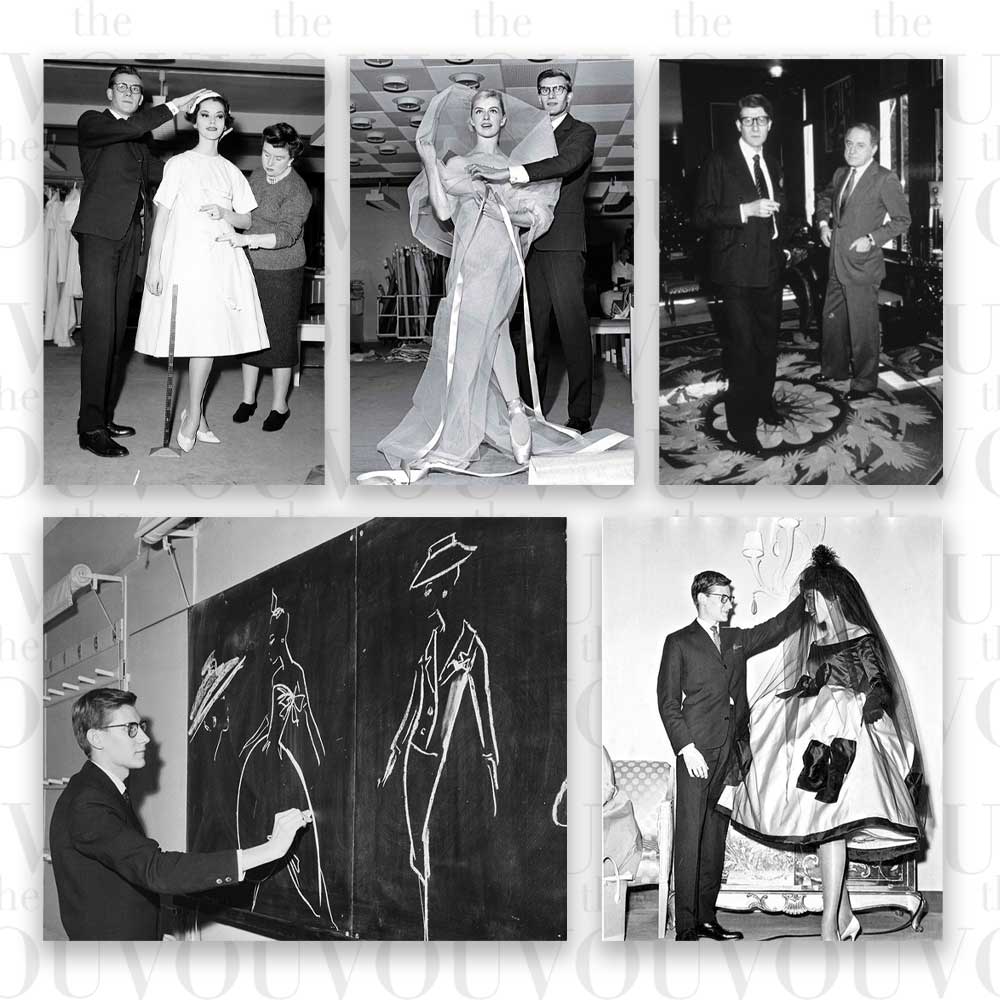 Considered the most influential European fashion designer of the modern era, the French designer's authentic and seductive style has gained immense popularity among true fashion lovers.
Credited with spurring the rise of haute-couture from its 1960s ashes and rendering ready-to-wear reputable, Yves Saint Laurent's unique style and aesthetics made women feel confident, comfortable, and elegant.
The designer's "Le Smoking" tuxedo suit had a masculine cut, redesigned into a beautiful collection for women, immediately embraced as "women's power dressing."
Yves Saint Laurent's influential work pioneered androgynous fashion and shaped the fashion industry as we know it.
Constantly in touch with the latest fashion trends, Yves Saint Laurent championed diversity in fashion as the first fashion designer to put women of color on the runway.
More recently, YSL appointed Blackpink's Rosé as the brand's global ambassador, showcasing that brand's all-inclusive roots and values still stand firm.
---
8
/20
Jean Paul Gaultier
GAULTIER
France
(Born in 1952)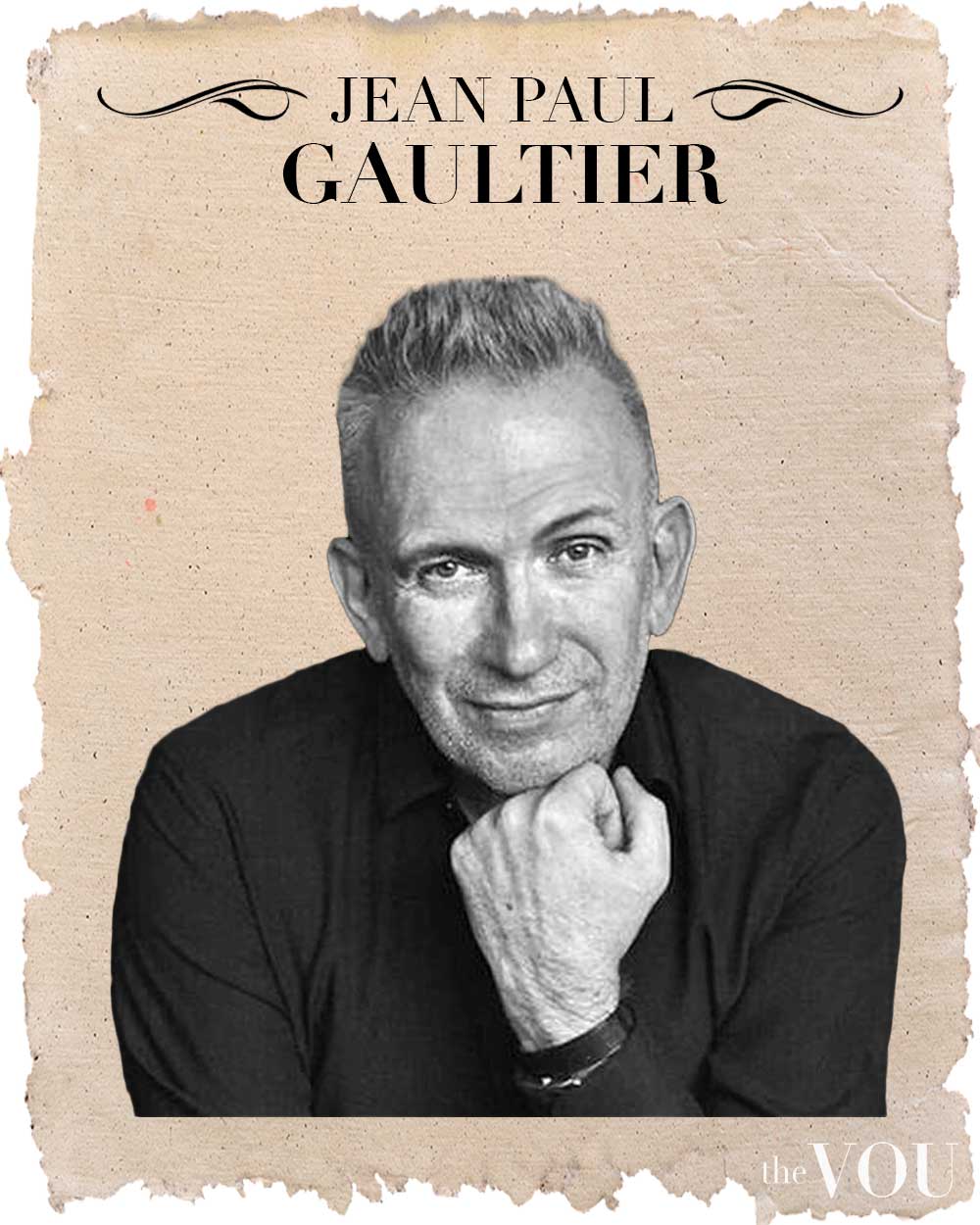 Born in 1952 in Val-de-Marne, France, Jean-Paul Gaultier thrives as one of the best French fashion designers ever.
Spending his childhood with his maternal grandmother, Jean-Paul Gaultier developed a taste for fashion at a young age.
Inspired by corsets, which he found fascinating as a child, Gaultier even made a bra for a stuffed bear – a childhood artifact featured in a fashion exhibition dedicated to his work.
Gaultier joined the house of Pierre Cardin at the age of 18 but moved to Jean Patou the following year.
Gaultier was deeply influenced by the work of Yves Saint Laurent, as visible in the fashion designer's first collection launched in 1976.
With the help of Francis Menuge – his life partner – the stylist established the 'Jean-Paul Gaultier' brand in 1982.
In 2003 Gaultier was appointed as the head designer at Hermes, where he worked until 2011 to create some of the most original designs ever seen.
In 2012, Coca-Cola appointed Gaultier as its new creative director and tasked the iconic fashion designer with bringing his unique style to the brand's bottles and cans.
Jean-Paul Gaultier's unique creations – see Madonna's infamous conical bras for the 1990 Blond Ambition tour – exudes a sensual, irreverent style that challenges the stereotypical idea of femininity.
To date, the French designer's influential design and style re-shape traditional gender roles by emphasizing androgyny and freedom of sexual expression.
---
9
/20
Hubert de Givenchy
GIVENCHY
France
(1927-2018)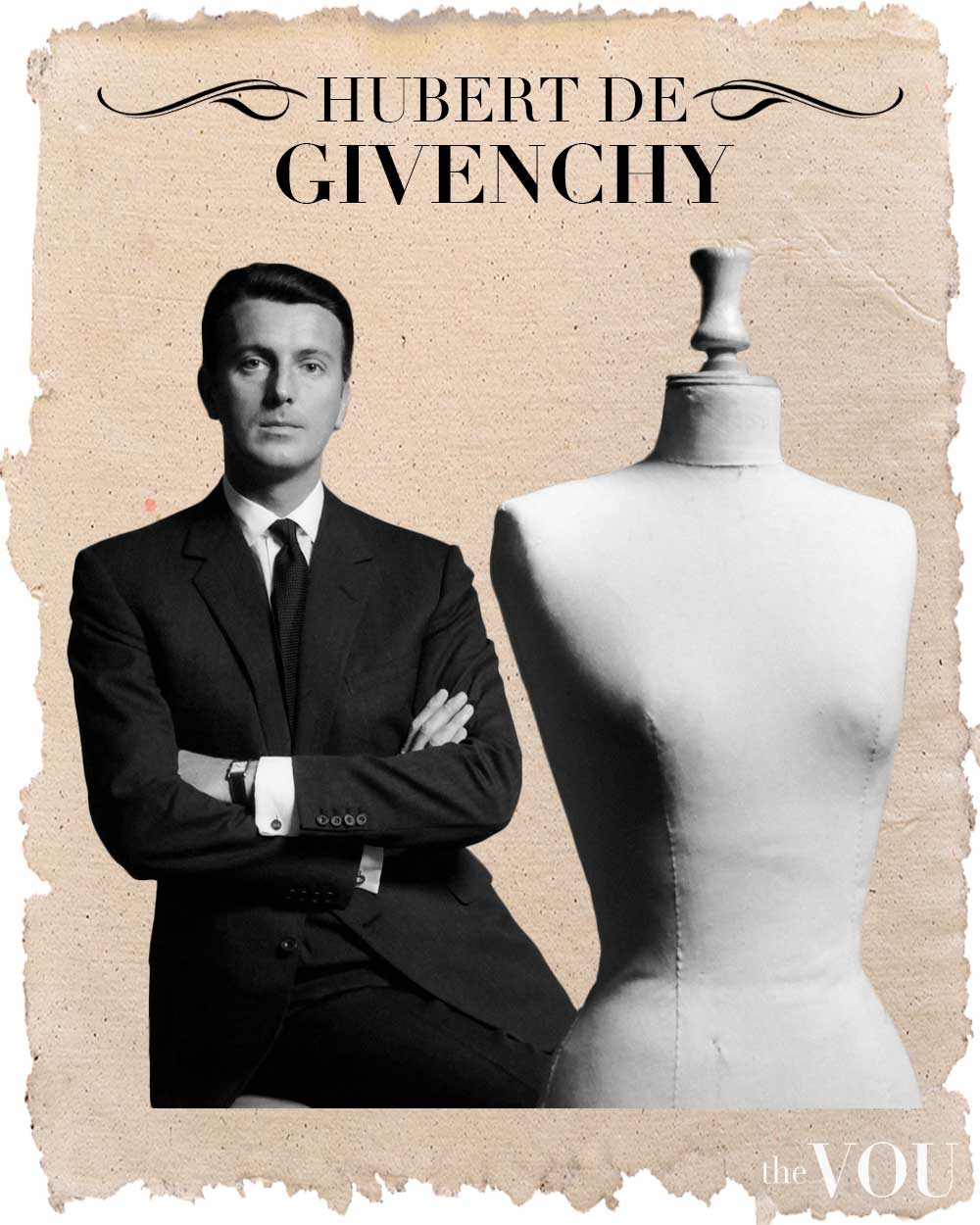 Hubert James Marcel Taffin de Givenchy was born on February 21, 1927, in the city of Beauvais in northern France, in an aristocratic family.
Hubert de Givenchy studied art at the École Nationale Supérieure des Beaux-Arts and at the age of 17, began an apprenticeship with designer Jacques Fath.
After his Fath experience, Givenchy worked for several famous French couture houses like Lucien Lelong, Robert Piguet, and Elsa Schiaparelli.
The French fashion designer eventually opened his own couture house in 1952 and received several awards for his chic and feminine clothes for women.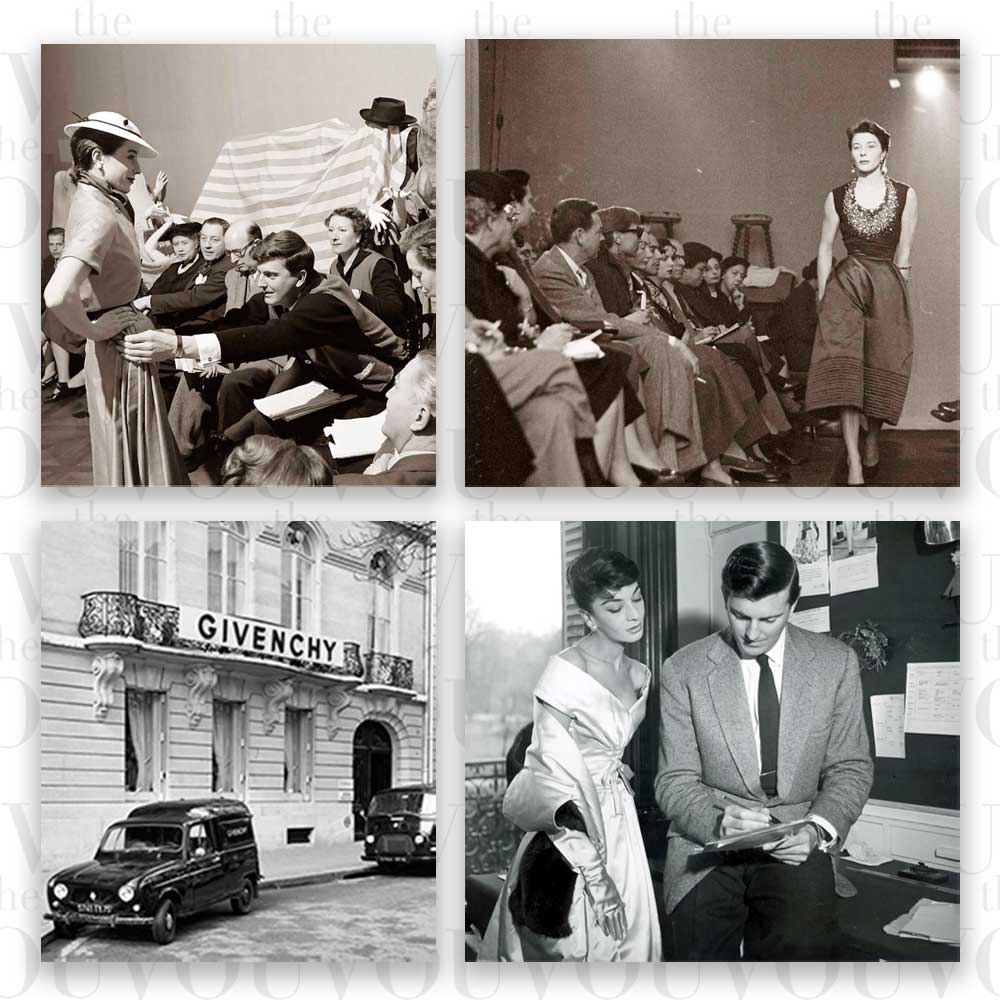 In 1953, Givenchy met Spanish designer Cristóbal Balenciaga, whom he greatly admired, and together introduced a new silhouette called "the sack," a loose form without a waistline.
Featuring separates such as long skirts and tailored tops that included the "Bettina blouse" named after model Bettina Graziani, elegant evening gowns, feminine hats, and tailored suits, Givenchy's name became synonymous with Parisian chic.
One of Givenchy's most ardent supporters was the famous British actress and fashion icon Audrey Hepburn.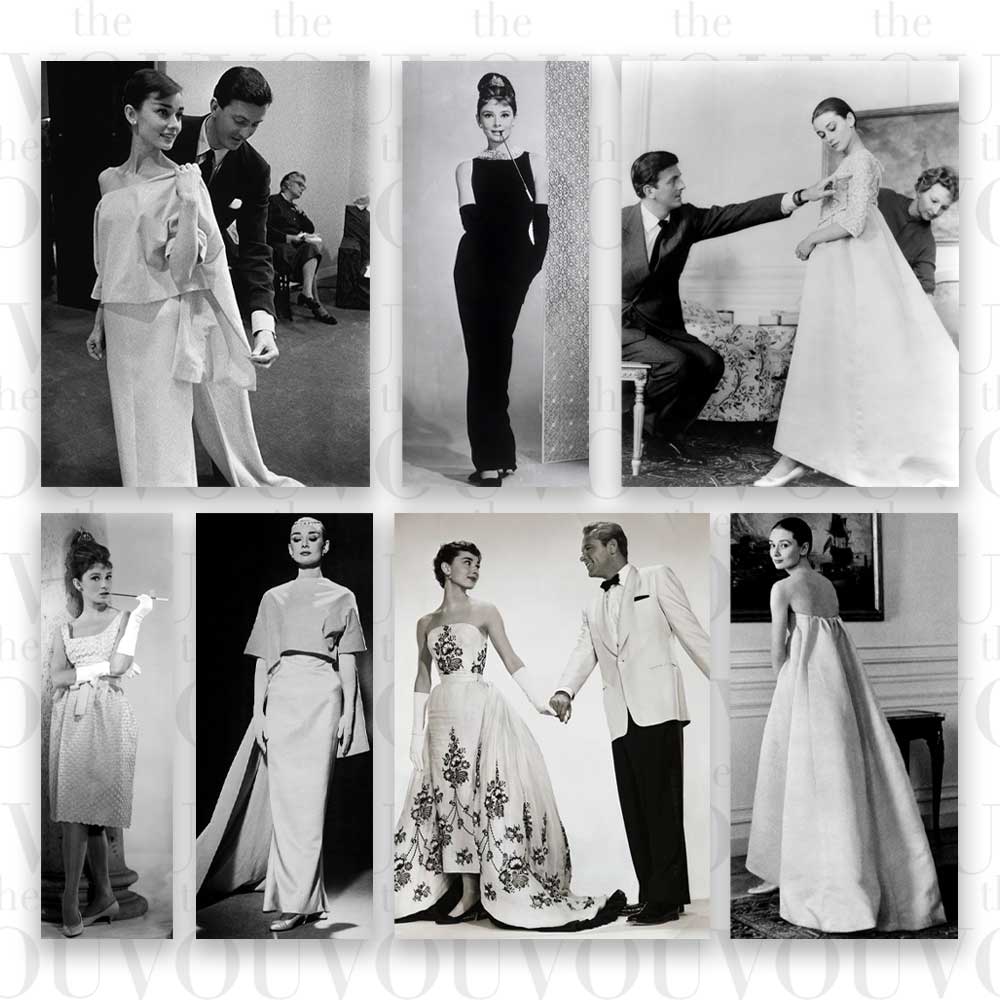 Hepburn loved Givenchy's clean, classic, and unapologetically feminine aesthetics and wore many of the fashion designer's creations in "Breakfast at Tiffany's," "Funny Face," and "Charade."
---
10
/20
Miuccia Prada
PRADA
Italy
(Born in 1949)
Born Maria Bianchi Prada on May 10, 1949, in Milan, Italy, Miuccia Prada is an Italian fashion designer and the head designer of the Prada fashion house.
With a Ph.D. in political science from the University of Milan, Miuccia Prada was a member of the Italian Communist Party and had no business experience when she took over her family's luggage business in 1978.
However, the Italian designer shifted towards the world of fashion in 1985 with a series of black nylon handbags and backpacks with understated labels, in stark contrast to the logo-heavy styles that dominated.
Four years later, Miuccia Prada – with no formal fashion training – launched a ready-to-wear women's clothes called "uniforms for the slightly disenfranchised."
Eventually, the Italian fashion designer turned Prada into the billion-dollar fashion giant that continues to mesmerize with stylish pared-down designs, innovative fabrics, and unique patterns.
---
11
/20
Oscar de la Renta
OSCAR DE LA RENTA
Dominican Republic
(1932-2014)
Born in the Dominican Republic on July 22, 1932, Oscar de la Renta dressed, arguably, every important woman – from Hilary Clinton to Sarah Jessica Parker – throughout his six decades as a fashion designer.
At the age of 18, Oscar de la Renta left the Caribbean to study painting at the Academy of San Fernando in Madrid but fell in love with dress-making after landing an apprenticeship with Spain's most renowned couturier, Cristobal Balenciaga.
In 1961, Oscar de la Renta was hired by the House of Lanvin-Castillo, one of the most influential Parisian fashion houses known for elegant clothes, slender lines, long flowing skirts in rich fabrics, and elaborate embroideries.
Two years later, the Dominican fashion designer moved to New York to join Elizabeth Arden, an American fashion house, in preparation for his signature ready-to-wear label, launched in 1965.
In 1967, De la Renta married Francoise de Langlade, the editor-in-chief of French Vogue, who introduced influential members of society, the rich and famous, to his shows.
With delicate silk prints, ruffles, soft silhouettes, and vibrant palettes, Oscar's creations soon became synonymous with casual luxury.
As one of the world's leading fashion designers, famous for women's evening wear and suits in distinct lines combining modern with feminine, Oscar's unique tone of red became known as "de la Renta red."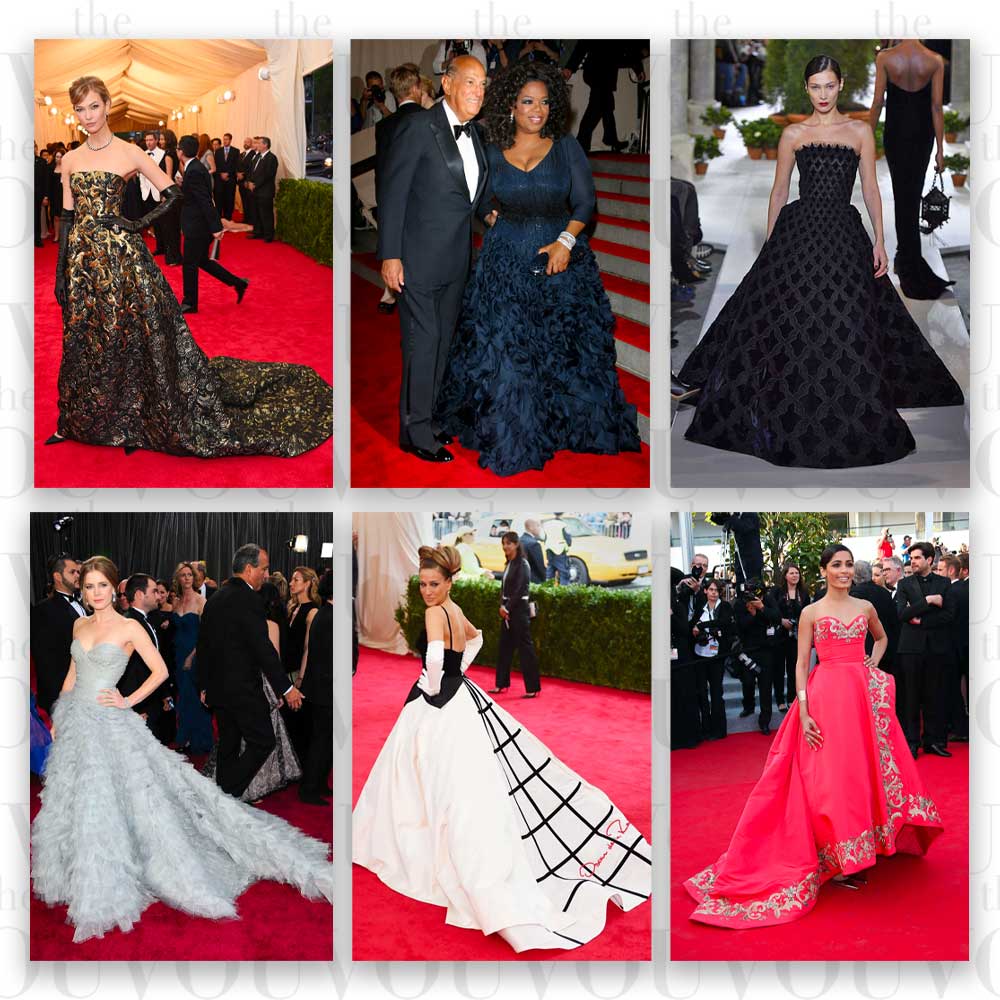 With flattering and feminine pieces worn by successful women worldwide and adored by royals and several presidential first ladies, Oscar de la Renta became one of the most sought-after names in haute couture.
Respected by his contemporaries, de la Renta served as president of the Council of Fashion Designers of America from 1973 to 1976 and from 1986 to 1988.
---
12
/20
Elsa Schiaparelli
SCHIAPARELLI
Italy
(1890-1973)
Born 10 September 1890 at Palazzo Corsini, Rome, Italy, Elsa Schiaparelli was a fashion designer from an Italian aristocratic family of great cultural background, erudition, and accomplishments.
Considered Coco Chanel's greatest rival, Schiaparelli (Schiap to her friends) launched her own fashion Maison, the House of Schiaparelli, in Paris in 1927 and managed it personally until the '50s.
Influenced by couturier Paul Poiret – renowned for jettisoning corseted and over-long dresses for the modern, elegant and sophisticated woman – Schiaparelli was regarded as one of the most prominent European fashion designers between the two World Wars.
Early Schiaparelli's collections depict unique themes such as the human body and insects in bright colors, such as the now-renown "Schiaparelli shocking pink."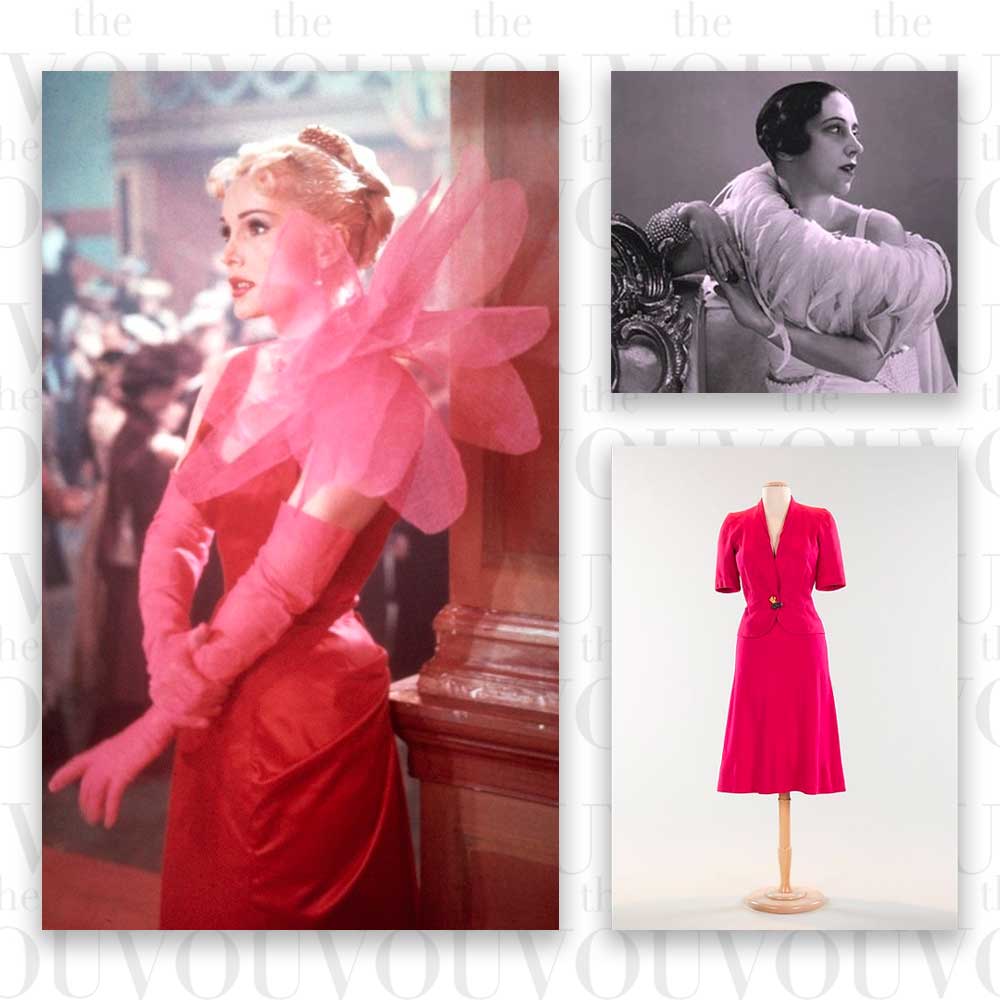 The Italian designer's collaborations with Salvador Dalí and Jean Cocteau resulted in some of the most unconventional and eccentric fashion creations ever.
Schiaparelli's famous designs, created in "trompe l'oeil" (deceive the eye), an art technique that uses realistic imagery to create 3-dimensional optical illusions, are unmatched celebrations of wearable surrealism.
With clients such as heiress Daisy Fellowes and actress Mae West, Schiaparelli's unique pieces enchanted and shocked, such as the divided skirt, a forerunner of shorts, worn by Lili de Alvarez at Wimbledon in 1931.
---
13
/20
Pierre Cardin
PIERRE CARDIN
France
(1922-2020)
Born Pietro Costante Cardin on July 2, 1922, in San Biagio di Callalta, Italy, Pierre Cardin was an Italian-born naturalised-French fashion designer praised for his 20th-century futuristic style.
At 17, Cardin went to Vichy, France, to train as a tailor in a men's clothing shop, and after World War II joined the Parisian fashion house of Paquin, where he helped design costumes for Jean Cocteau's film Beauty and the Beast.
Pierre Cardin also worked at the couture house of Christian Dior and, in 1950, opened his shop that quickly granted the fashion designer a reputation as expert men's suitmaker.
But what made the Italian-French fashion designer reach global popularity and recognition was his mid-1960s fashion creations.
Cardin's love for geometric shapes and motifs translated into androgynous and unisex clothing, often experimental rather than practical.
Appointed UNESCO Goodwill Ambassador in 1991 and United Nations FAO Goodwill Ambassador in 2009, the Italian-born Frenchman rose to fame in the age of the space race.
Cardin's creations embodied the perfect touch of innovation, inventiveness, and modishness, particularly the 'bubble dress' with a touch of SCI-FI avant-garde design.
The fashion designer's stark, short tunics, vinyl, helmets, and avant-gardist goggles developed the so-called Space Age look.
Cardin is also famous for licensing his name on various products (such as sunglasses), which became familiar to renowned fashion designers.
---
14
/20
Dame Vivienne Westwood
VIVIENNE WESTWOOD
United Kingdom
(Born in 1941)
Born Vivienne Isabel Swire in Tintwistle, Cheshire, England, on April 8, 1941, the British fashion designer is considered one of the world's most eccentric fashion designers to date.
Vivienne Westwood rose to fame in the late 1970s with unique fashion creations that helped shape London's punk-rock and grunge movements.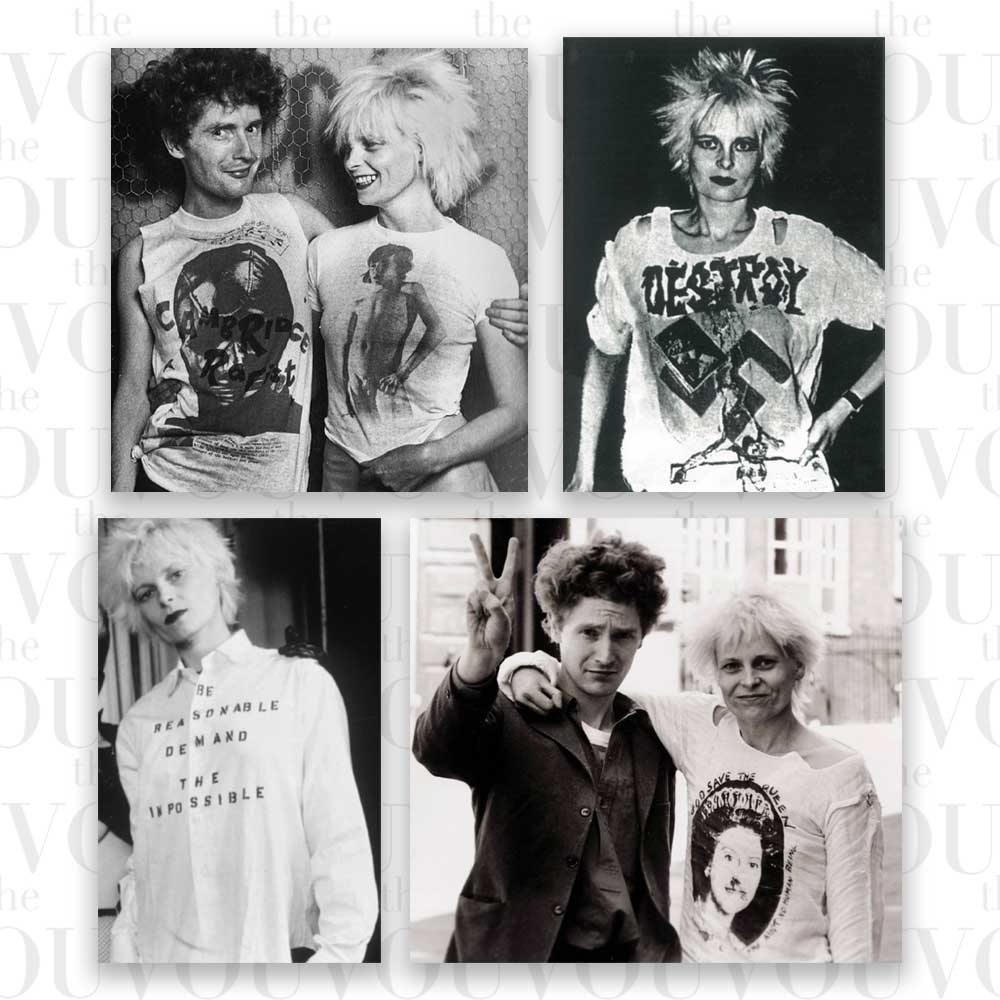 Vivienne and Malcolm McLaren (the manager of the punk band the Sex Pistols) SEX, a punk fashion clothing store in King's Road, and meeting place for members of the London punk scene.
"I was messianic about punk, seeing if one could put a spoke in the system somehow,"
Said the British fashion designer.
Their ability to synthesize clothing and music shaped the 1970s U.K. punk and inspired many style icons of those times, such as Viv Albertine, who wrote in her memoir:
"Vivienne and Malcolm use clothes to shock, irritate and provoke a reaction and inspire change.

Mohair jumpers, knitted on big needles so loosely that you can see through them, T-shirts slashed and written on by hand, seams and labels on the outside, showing the piece's construction; these attitudes are reflected in the music we make.

It's OK not to be perfect, to show the workings of your life and your mind in your songs and clothes."
With a daring sense of style, the British fashion designer is an iconic figure who continues to use fashion to voice several political causes such as women empowerment, nuclear disarmament, climate change, and civil rights.
In 1992, Westwood was awarded an OBE, which she collected from Queen Elizabeth II at Buckingham Palace, wearing nothing but sheer tights with a reinforced bikini top under her skirt.
The British designer advanced from OBE to DBE in the 2006 New Year's Honours List "for services to fashion" and has twice earned the award for British Designer of the Year.
---
15
/20
Stella McCartney
STELLA MCCARTNEY
United Kingdom
(Born in 1971)
Born on September 13, 1971, in London, England, Stella Nina McCartney is the second of three children born to ex-Beatle Paul McCartney and his late wife, Linda.
Despite her father's celebrity profile, Stella McCartney had a remarkably normal childhood; a country lifestyle at a farm in Sussex, raising farm animals and growing vegetables.
"I was brought up with the understanding that we are all (people, animals, plants) together, on this planet."
The British fashion designer told The Guardian in a 2009 profile.
With that idea of life, Stella McCartney burst into the fashion world in 1995 after inviting supermodels (and friends) Naomi Campbell and Kate Moss to model her graduation collection from London's Central St. Martins College of Art & Design.
Two years later, Stella became the head designer at Chloe's fashion house, and McCartney proved herself worthy of the appointment with created sensual, subtly sexy creations for eco-conscious women.
Stella McCartney's superb pieces attracted several celebrities, including Madonna, Gwyneth Paltrow, and Kate Moss, triggering Gucci to support the British designer starting her line.
A vegetarian by choice, Stella McCartney's label was founded with sustainability and cruelty-free at its core, using only faux fur and faux leather.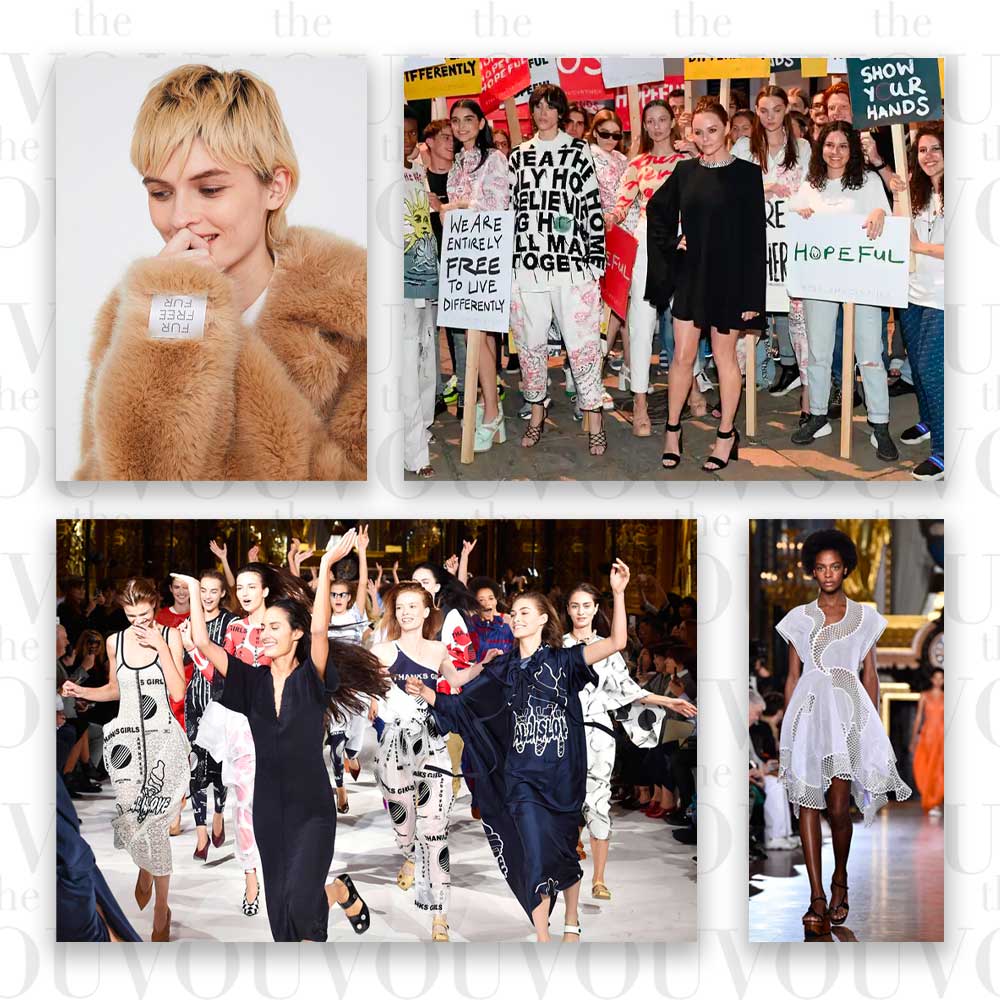 McCartney designed Meghan Markle's stunning white halter-neck reception dress for her wedding to Prince Harry, and received the VH1/Vogue Designer of the Year Award in 2000.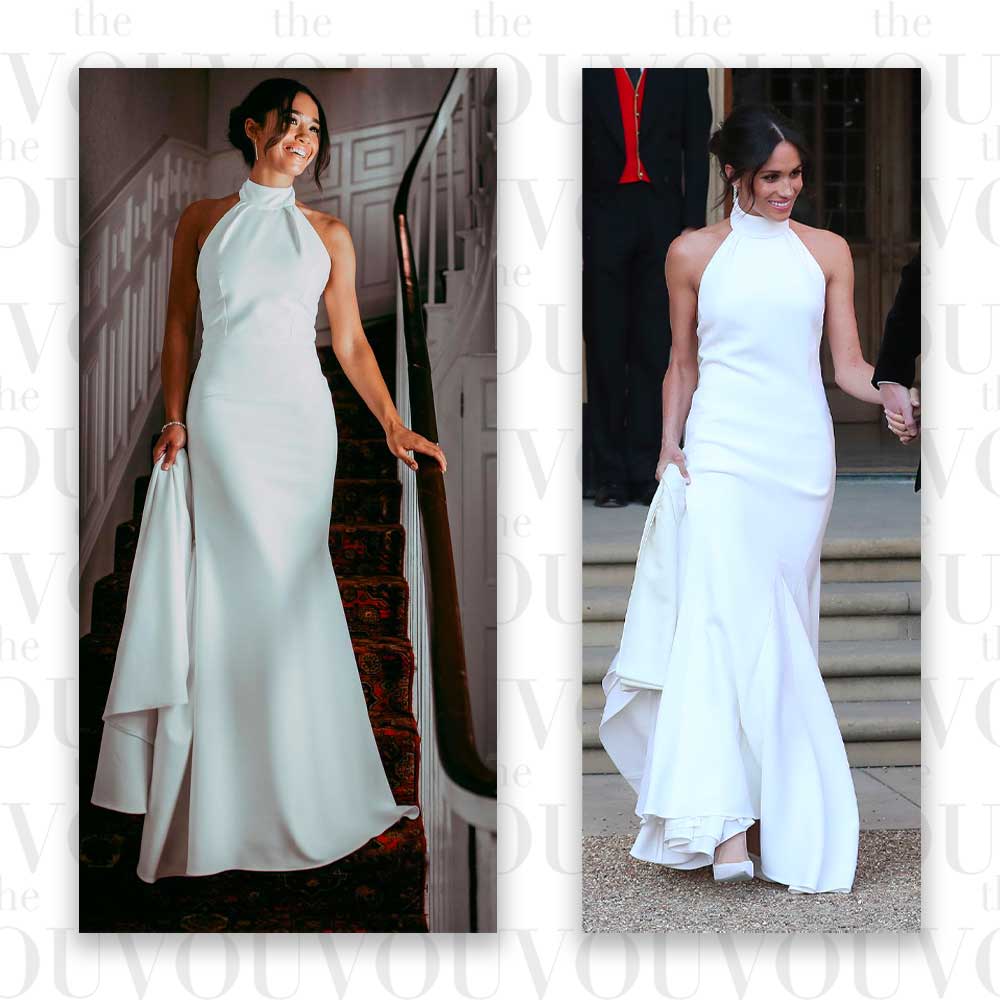 Moreover, the British designer created the athleisure clothing line for Great Britain's Olympic team in 2012.
---
16
/20
Virgil Abloh
OFF-WHITE
United States
(1980-2021)
Virgil Abloh was born on September 30, 1980, in Rockford, Illinois, to Ghanaian immigrant parents.
Virgil's mother was a seamstress, and the father managed a paint company.
While attending the Illinois Institute of Technology (IIT) for his Master of Architecture classes, Abloh met architect Rem Koolhaas (who had worked on runway collections for Prada), who sparked his interest in fashion.
Abloh began designing T-shirts and writing about fashion and design on "The Brilliance" blog while working for the Chicago Street Fashion.
Eventually, he gained an internship at Fendi in 2009, alongside the famous American rapper Kanye West, a move that ushered him into the world of international fashion, music, and celebrities.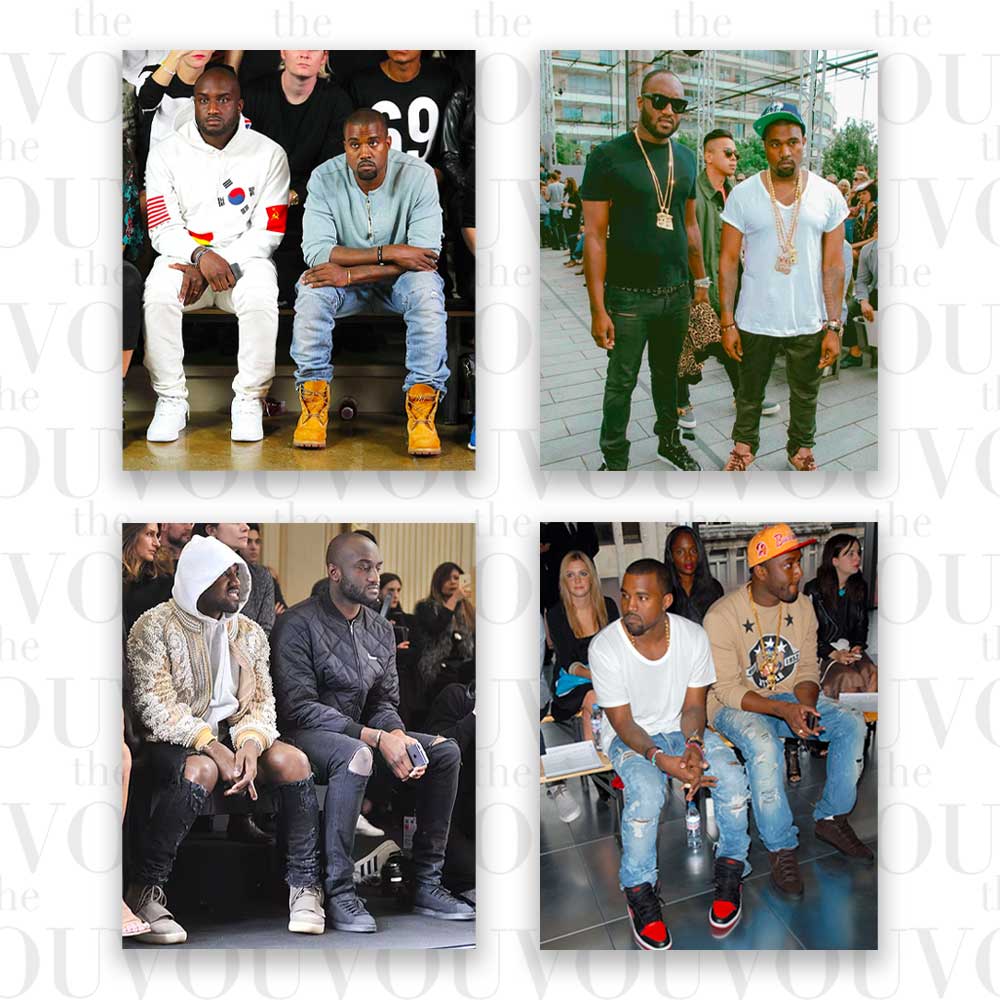 The two then began an artistic collaboration that would conclude with Abloh's founding of the trendy streetwear brand Off-White in 2013.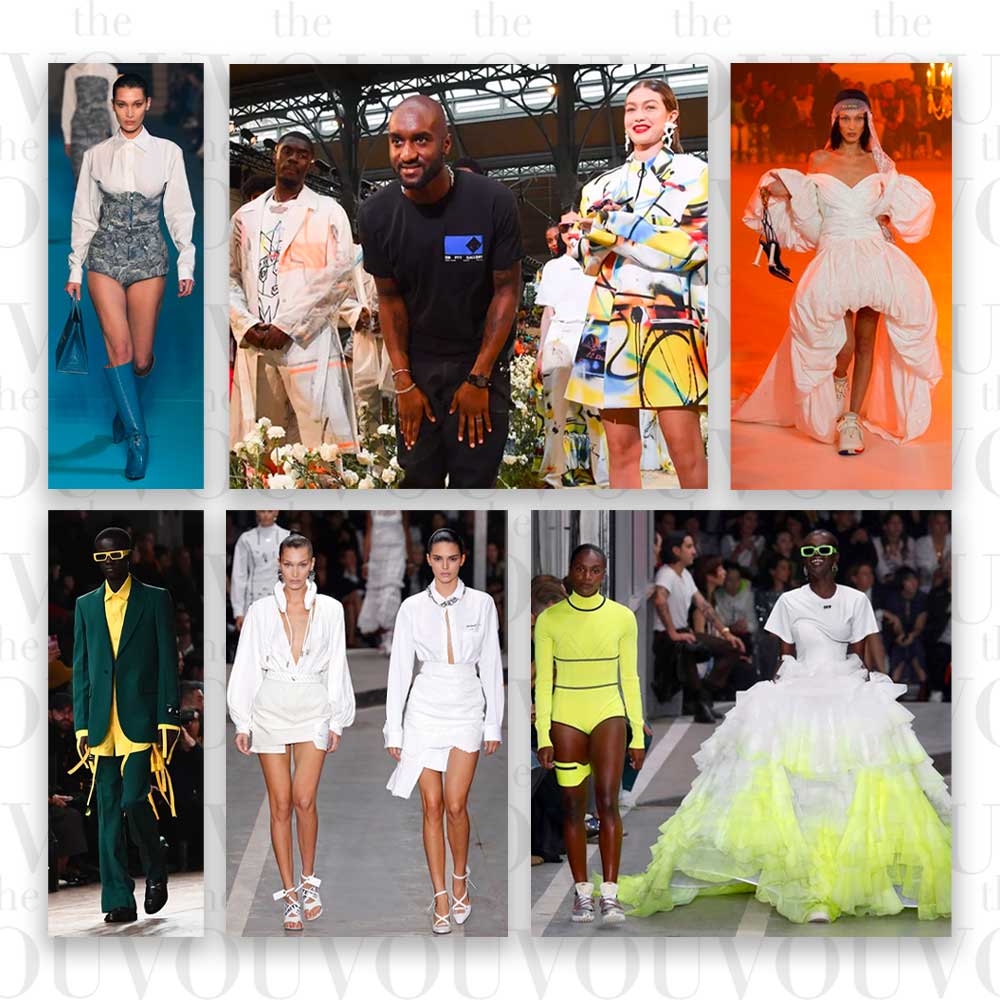 In 2018, LV, a French fashion giant, appointed Virgil Abloh as the artistic director of the brand's menswear collection.
The first African-American artistic director at a French luxury fashion house, Abloh was named by Time magazine as one of the 100 most influential people in the world in 2018.
Abloh's design aesthetic bridged streetwear and luxury clothing and was described as transformative by The New York Times.
According to The Wall Street Journal, he reached global fame, unusual for a designer.
According to the BBC, Abloh became an inspirational figure to many black fashion designers.
---
17
/20
Marc Jacobs
MARC JACOBS
United States
(Born in 1963)
Born on April 9, 1963, in New York City, Marc Jacob's life was turned upside-down at the age of 7, when his father died, and his mother responded poorly to his father's death, embarking on several failed marriages.
Alienated from his mother, after a period of heavy drug and alcohol use that resulted in his checking into a rehab facility, Jacobs moved in with his paternal grandmother on the Upper West Side of Manhattan.
Well-traveled and educated, with a deep love of aesthetically beautiful things, Jacob's grandmother allowed Jacobs to enjoy permissive adolescence full of self-exploration, which was key to his fashion success.
"She was emotionally stable and very encouraging to me. She never told me it was wrong to be gay or right to be straight. She never said, you can't be a fashion designer or you're a boy and can't have long hair,"
Jacobs says.
American fashion designer, Marc Jacobs' journey, began at the Parsons School of Design, and he later landed a position at Perry Ellis.
In 1987, he became the youngest designer to win the Council of Fashion Designers of America Perry Ellis Award for New Fashion Talent.
Working as creative director for Louis Vuitton from 1997 to 2014 – while running his labels, Marc Jacobs and Marc by Marc Jacobs in parallel – the American designer was hailed as a fashion powerhouse and beacon of inspiration.
In bold colors and statement-making shapes worn by Cara Delevingne, Dakota Fanning, Deena Abdulaziz, Kate Moss, and Lady Gaga, Jacob's creations continue to transform the fashion world as we know it.
---
18
/20
Raf Simons
RAF SIMONS
Belgium
(Born in 1968)
Born on January 12, 1968, in Neerpelt, Belgium, Raf Simons is a Belgian fashion designer who served as Jil Sander's creative director, Christian Dior's artistic director, Chief Creative Officer of Calvin Klein, and the co-creative director of Prada.
Inspired by the Belgian couturiers Antwerp Six, Raf took an internship at the studio of Walter Van Beirendonck (one of the Six).
With the encouragement of Linda Loppa, head of the fashion department of the Royal Academy of Fine Arts in Antwerp, he produced his first collection of menswear in 1995, thus bringing the Raf Simons label into being.
His look, which fused outsider youth apparel with traditional business attire, gained an immediate following.
In 2005, the German brand Jil Sander approached the Belgian designer to replace Sander as creative director.
Despite never designing womenswear, Raf's collection for Jil Sander in the label's minimalist aesthetic combined with his subtle elegance had excellent reviews.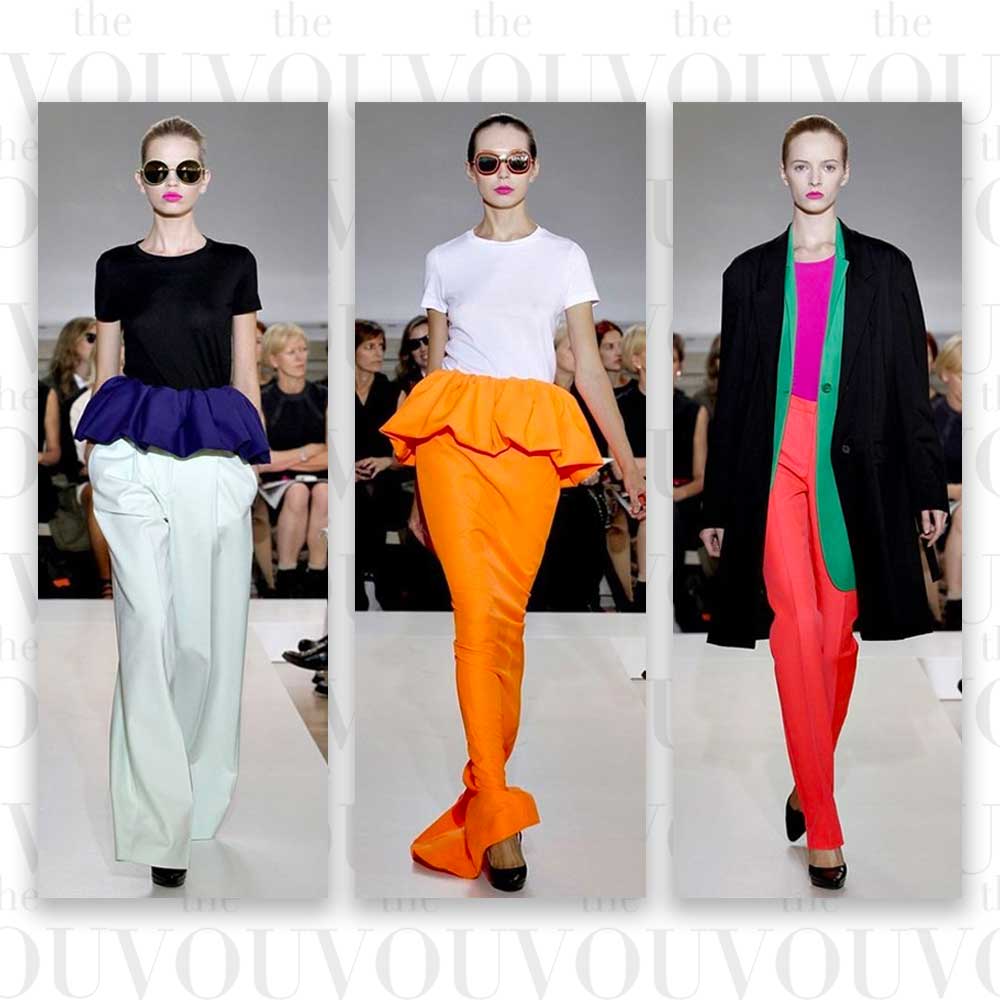 In 2012 the designer replaced John Galliano as the artistic director of Christian Dior.
His first collection for the French house earned great praise for staying true to the romantic aesthetic of the brand while imparting a modern sensibility.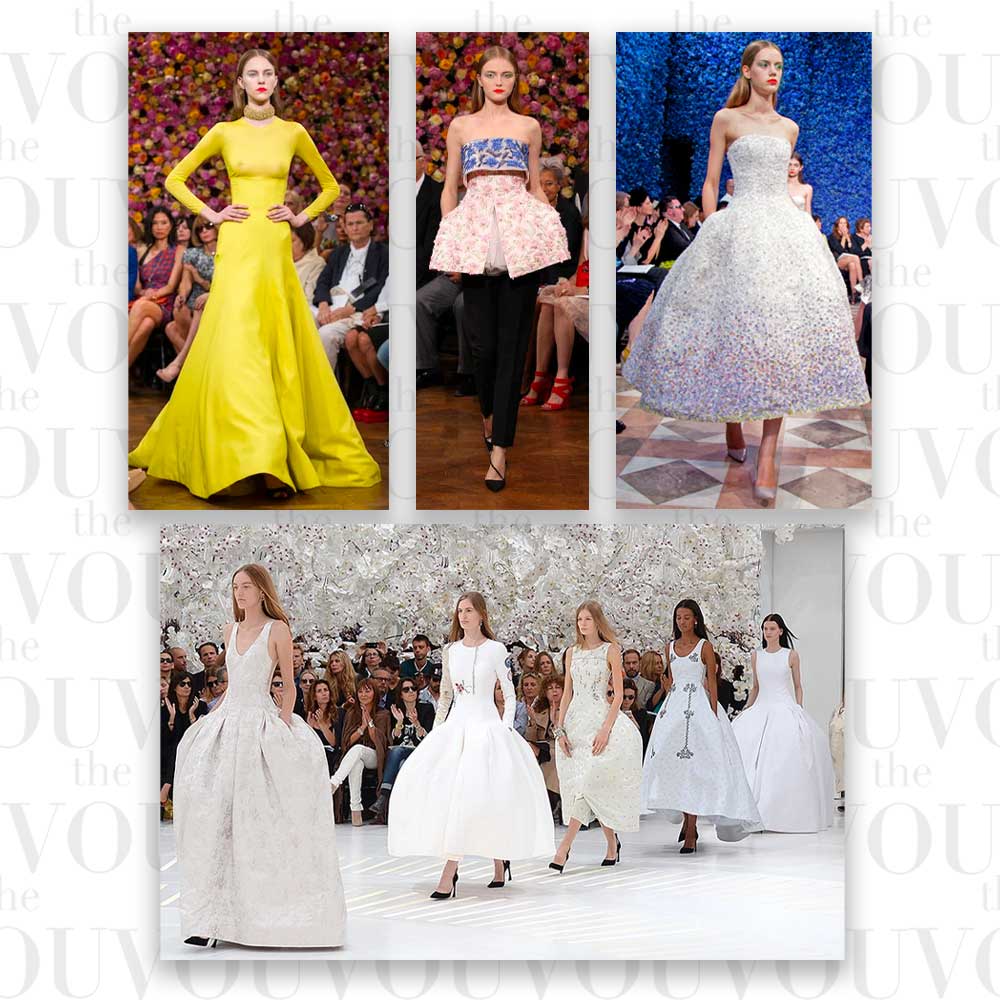 In 2016, the Belgian fashion designer moved to Calvin Klein and announced the Kardashian family as the new faces of Calvin Klein Underwear and Calvin Klein Jeans.
In 2020, he joined forces with Miuccia Prada as Prada's co-creative designer, a position he holds to the current day.
---
19
/20
Tom Ford
TOM FORD
United States
(Born in 1961)
Born Thomas Carlyle Ford on August 27, 1961, in Austin, Texas, Tom Ford is an American fashion designer and filmmaker.
While studying interior architecture at Parsons' New School for Design in New York City, Ford realized he was attracted to men.
Ford began frequenting gay clubs, and the glamorous disco vibe of those experiences would play a significant influence on his later fashion designs.
In 1988, Ford moved to Perry Ellis, where he knew Marc Jacobs, the company's designer, and Robert McDonald, the company's president.
At the begging the 90s fashion era, in 1990, Gucci hired Ford as the brand's chief women's ready-to-wear designer, and Ford and his longtime partner, fashion journalist Richard Buckley, relocated to Milan.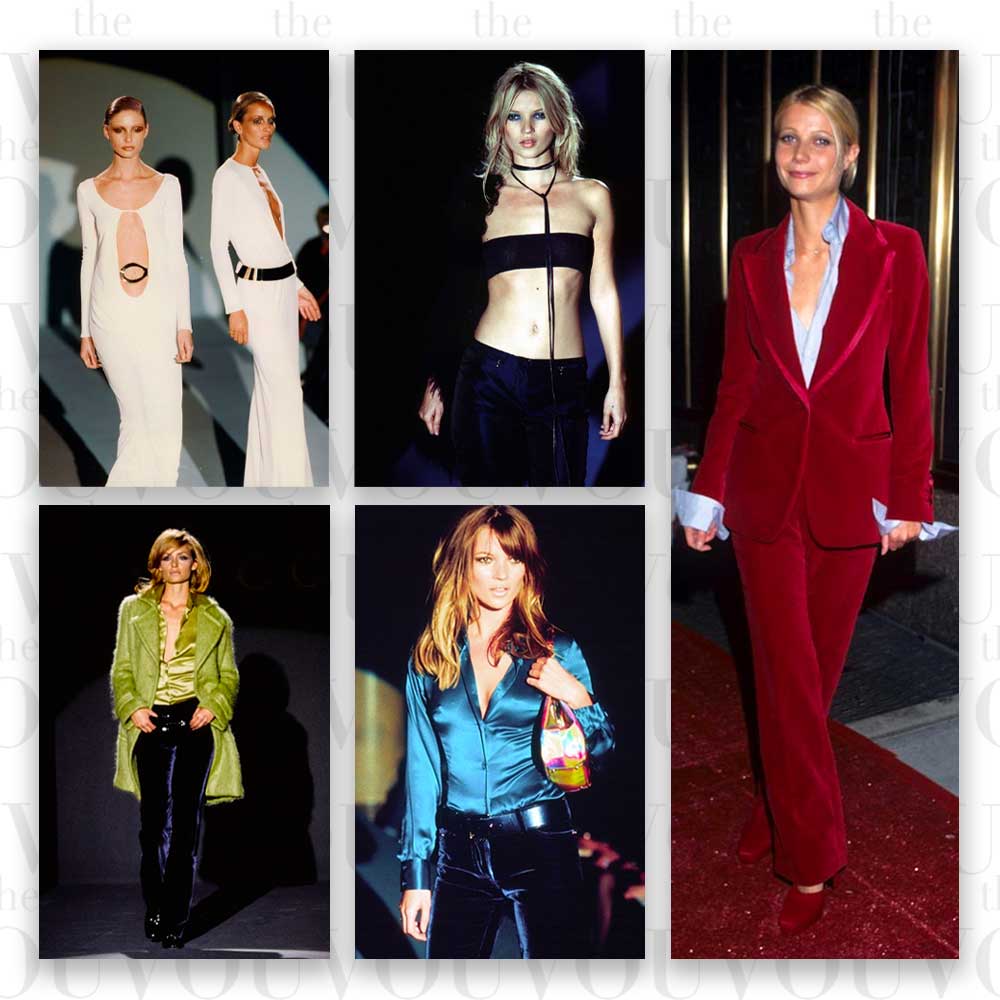 Gucci's appointment as an American fashion designer paid off as Ford revamped the brand's image, advertising, and design.
As Gucci's creative director, Ford delivered a successive series of mostly 1970s-inspired, critically acclaimed fashion collections for women and men and handbags, shoes, accessories, and two new Gucci scents: Envy and Rush.
He also aesthetically transformed Gucci's image from what American Vogue called a "logo-laden" look to one that transmitted a sophisticated sex appeal.
In addition, Ford had good instincts when it came to publicity.
In 1995 he hired the French stylist Carine Roitfeld and her frequent collaborator, photographer Mario Testino, to create a new, modern image for Gucci's advertising campaigns.
The Gucci style – the clothes, the models, the hair, and makeup – served as a source to which the industry looked for creative inspiration.
Ford also courted the interest of such Hollywood actresses as Goldie Hawn, Rita Wilson, Gillian Anderson, Gwyneth Paltrow, and Lisa Eisner, a prominent wealthy Los Angeles socialite.
By 1999, the house of Gucci, which had been almost insolvent when Ford joined, was valued at more than $4 billion.
When Gucci acquired the house of Yves Saint Laurent (YSL) in 1999, Ford was named Creative Director of that label as well.
When Ford left in 2004, Gucci Group was valued at $10 billion, and four fashion designers were hired to deal with the amount of work done by Ford alone.
The American fashion designer launched his eponymous luxury brand in 2005 and won the Best International Designer in 2000 as one of the most famous contemporary stylists in high fashion, high-end accessories, and clothing.
A self-declared perfectionist and workaholic, Tom Ford stated:
"If I am awake, I am working. Maybe that is why I was able to run both Gucci and Yves Saint Laurent as creative director while preparing my own brand."
---
20
/20
Olivier Rousteing
BALMAIN
France
(Born in 1985)
Born September 13, 1985, in Bordeaux, France, Olivier Rousteing is a French fashion designer and the creative director of Balmain since 2011.
Adopted at the age of 1, Olivier Rousteing went on to study at Ecole Supérieure des Arts et Techniques de la Mode in Paris.
Graduating in 2003, he began his career as a designer at Roberto Cavalli, climbing the ranks to become head of the brand's womenswear division.
Balmain hired Rousteing in 2009 as a women's ready-to-wear designer to work with the house's then creative director, Christophe Decarnin.
At the age of 24, in 2011, Olivier Rousteing was appointed as Balmain's creative director, the youngest fashion designer to hold such a powerful position in Paris since Yves Saint Laurent.
Born into an internet-savvy generation, Rousteing was one of the pioneers of Instagram marketing, with his "Balmain Army" of influencers dressed in the brand's signature military style.
It comprises a force of strong, internationally famous women and trending virtual influencers, including Kendall Jenner, Gigi Hadid, Kim Kardashian West, and computer-generated models Margot, Shudu, and Zhi.
Uniquely creative, with excellent social media skills, and a strong voice for diversity in the fashion industry, the French fashion designer, has mastered catering and engaging the digital generation of fashion-savvy.
---
Conclusion
As part of the new generation, there are many more fantastic fashion designers worth mentioning in this article, such as Christian Louboutin, Vera Wang, Emanuel Ungaro, Kate Spade, and Michael Kors.
Last but not least, let's not forget Donna Karan, Victoria Beckham, Zac Posen, Christian Audigier, Christian Lacroix, Christian Siriano, and Tory Burch, key fashion designers to the looks we wear today.
This top 20 best fashion designers is not definitive and will expand to include the fashion designers mentioned above, according to your proposals and votes, so feel free to contribute with your opinions on who the best fashion designers are.
Now it's your turn…
Which one of these 20 iconic fashion designers do you see as the most popular designer, and why?
Which key fashion designer do you think we've missed and should include in our next article update?
What would be your 'top 5' most famous fashion designers ever? Please share them with us.
What are the most important factors you consider when cataloging a fashion designer as iconic?
Here are my top 3:
Fashion designer's story and background.
'That' unique style that changed the course of fashion.
The celebrity-worn pieces that made it to the history books.
Please leave your comments below; we always appreciate your comments and use them to learn, improve, and update these articles.