"There is something special happening in Detroit, and people can feel that." So says Cassidy Tucker, co-founder of the Detroit-based apparel brand Deviate, one of a growing cadre of unabashedly community-oriented creatives who are shaping the city's increasingly dynamic fashion industry. 
The Motor City, though not often recognized among the world's fashion hotspots, is uniquely positioned, Tucker says, to bring to the industry something it has long lacked and that consumers are demanding. "There has been a shift in the industry to move toward more inclusive and sustainable growth," she says. "Detroit represents an opportunity to provide a fresh, diverse, and sustainable alternative to a status quo that has become unwelcome among consumers." 
And the world is taking notice of Detroit's potential. Earlier this year, Gucci teamed up with Tommey Walker of Detroit Vs Everybody for a capsule collection of T-shirts for the Gucci Changemakers social impact initiative. And this month, another world-renowned label will nod to the city's importance as a fashion player when Italy's Bottega Veneta presents its exclusive Salon 03 show here on Oct. 21. 
But as Detroit enjoys some well-deserved attention, creatives here want to make sure that the big-brand validation doesn't overshadow their own efforts to build a uniquely Detroit fashion industry, one that both reflects the city's signature style and brings real, tangible benefits to the city itself. 
"Detroit offers national brands an opportunity to do something nontraditional and fresh," Tucker says. "While this is great for our city, we also have to recognize what that means. Are these national brands really supporting the growth of Detroit's fashion industry? Or are they looking to profit off Detroit's 'cool factor'? There is no doubt that we need national brands to invest in Detroit in order to grow our ecosystem, but the responsibility is on us to choose the right partners who truly believe in the city."  
That ethos is central to what's happening here right now. The city's burgeoning fashion industry is organically different from the often-criticized global fashion machine. The designers, retailers, and entrepreneurs here speak frequently of their mutual goal of creating a sustainable and equitable future — in a city that's home to one of the largest Black populations in America — for an industry that has a history of overshadowing and downright excluding creatives of color. 
People-Driven
To that end, many local businesses and organizations have been working to promote Detroit's homegrown fashion, retail, and garment manufacturing industries as economic catalysts for the city. 
Détroit Is the New Black (DITNB) has become one of the city's best-known brands over the past decade with its popular merchandise repping the city. And owner Roslyn Karamoko is leveraging that success to help up-and-comers take their talents and brands to the next level. She provides space inside her downtown flagship store for other Detroit-based apparel, accessory, and beauty startups to test their wares in a brick-and-mortar space through a brand accelerator partnership with Pure Michigan Business Connect. DITNB also partners with the Boys and Girls Clubs of Southeastern Michigan (BGCSM) and the Detroit coworking space Ponyride to present Industry Club, an after-school program created by BGCSM for young people who are interested in retail or fashion merchandising careers. 
"Detroit's always been known as a city that's producing looks, sounds, and symbols of American culture," says Kiana Wenzell, who, as director of culture and community at the nonprofit Design Core Detroit, is helping to keep that history alive and moving forward. Founded in 2010, Design Core Detroit is a nonprofit that aims to provide access to capital for design-driven businesses, position Detroit as an international leader of design, and honor the city's 2015 designation as a UNESCO City of Design, a recognition the United Nations Educational, Scientific and Cultural Organization bestows to celebrate the unique design industries of select cities around the world. Detroit is the only U.S. city to have earned the distinction. 
Design Core's annual Detroit Month of Design festival in September attracts hundreds of participating designers and thousands of attendees with its installations, workshops, tours, and open studios. "All designers — from emerging to established, formally trained and not formally trained — can come together to showcase the best of our city," Wenzell says. "That's an inclusive message, and no other city is doing that."
Another way the organization has furthered its goal of bolstering the city's designers is through its Design in the City program. The program was held last year and powered by a $45,000 grant from Gucci's Changemakers North America Impact Fund. Organizers of the program focused on providing opportunities for fashion and accessory designers, particularly women and people of color. Each designer received a stipend to create an installation and was paired with local commercial spaces to host their work. 
Donovan Dewberry, an apparel and accessory designer and fashion illustrator, was one of the seven people chosen to participate. His exhibit, Atelier Detroit, explored his design process from illustrations to final concept. Sketches of his designs lined the walls of WeWork's downtown Detroit office, where his installation was hosted. Unfinished garments draped and pinned on mannequins symbolized his works in progress. And a sequined, chocolate-colored gown with a voluminous train represented a completed Donovan Dewberry masterpiece. 
 "That was the largest platform I had at that point to display my work," says Dewberry, who is a College for Creative Studies graduate and now works remotely in Detroit as a women's footwear designer for Ralph Lauren's corporate office. "I had a real budget to really make some nice things, and I worked with so many great people that were so willing to support you throughout the process on a creative level and business level."
True to This
As co-owner and CEO of Hot Sam's Detroit, the city's oldest men's clothing store, Tony Stovall has a vantage like no other on both the history and the current state of Detroit fashion. The downtown store opened in 1921 and celebrated its centennial anniversary in July with a showcase of 25 Black-owned businesses, a fashion show, and live entertainment.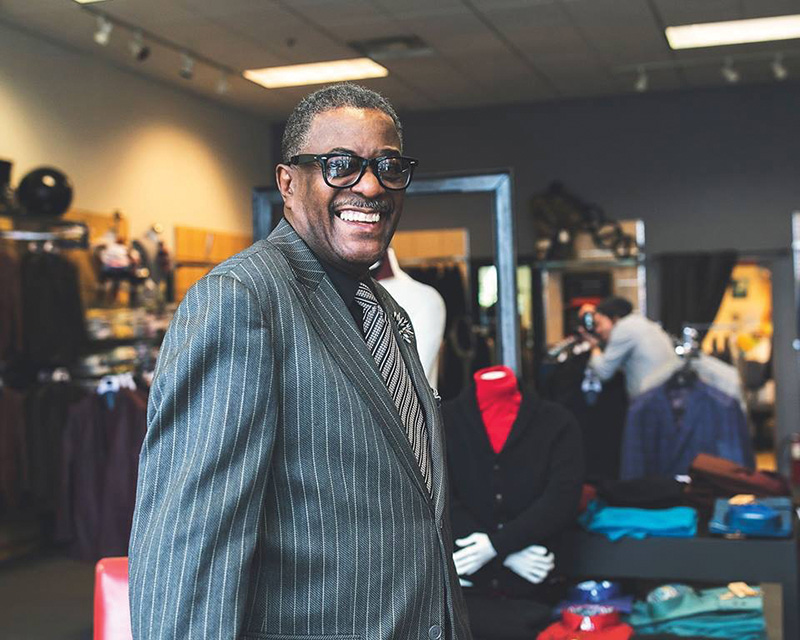 Stovall and Cliff G. Green bought Hot Sam's in 1994 after working 20 years together at the shop. He credits their community involvement — along with keeping up with the times by setting up an online store — for the store's longevity. "When we bought the place, I wanted people to know that we want to have a relationship with you — not just at the cash register, but whenever you need anything," he says.
But it's the classic Detroit flair of the store's selection that keeps Hot Sam's hopping. "What Detroit does: You get a suit — we might put a pocket square in there. We might put a boutonniere in there. And you'll know it's from Detroit," Stovall says. "We might wear a two-tone shoe versus a solid-colored shoe. We're going to tastefully give you that swag — that's the difference in Hot Sam's [and in] Detroit."
Tracy Reese knows all about that Detroit flair. 
"There's a flavor to Detroit that doesn't leave you if you're a native," says Reese, who has made a name for herself designing womenswear with unique prints and bold colorways. Reese went off to New York in the early 1980s to pursue a career in the industry. When she left, she says, she never foresaw herself having a fashion career back in her hometown. But since then, her priorities have changed. She found she simply no longer wanted to participate in the industry's grind and instead chose to pivot to a slower, more sustainable business approach. She knew she could do that in Detroit. 
In 2019, Reese bought studio space in Detroit's Rivertown Warehouse District and has since made the city her permanent residence. That same year, she launched her brand Hope for Flowers, which comprises garments made with ethically sourced textiles and in keeping with her signature flair for daring colors and prints. 
"The more I learned about the fashion industry's footprint, the more I knew I had to take responsibility for how I'm working," Reese says. It was also important to her to see more Black people and people of color participating in the city's resurgence. "I knew that I wanted to be a part of creating something right here in Detroit, having a great team of creative Detroiters working alongside me and being able to collaborate with some really cool artisans and craftspeople and other designers here in the city."
The Vanguard
Just as telling as Reese's return to the city is the fact that many talented Detroiters are never leaving in the first place. No longer is it an assumption that to succeed in fashion you have to leave for either New York or Los Angeles. 
Ken Walker was a few years into his marketing career when he thought about heading to one of those cities for fashion school. But the Detroit native remembers the nudge that compelled him to stay here. He was speaking with fashion designer and Project Runway veteran Nick Verreos at his book launch at New York's Fashion Institute of Design and Merchandising in 2016. 
"He was like, 'Wait, you're from Detroit?' And he just spoke so highly of our city and our culture," Walker says. "And he kind of looked at me and told me, 'I don't think you need school to validate you as a designer. Go be a big fish in a small pond in that city. Stand out and take what you know but also provide opportunity.'" 
And Walker has done just that. He launched K. Walker Collective in 2018, a line of classic hoodies, tees, shorts, jackets, and accessories that he hopes evoke a sense of power and effortless confidence in the wearer. Walker is now building a team of local creatives to work with and learn from his company.  "At [Detroit's] core is that grittiness, that hustle mentality — it's something that can't be taken away," Walker says. "To see so many emerging designers, creators, so many stylists, producers, photographers that love fashion that stayed here — that spirit can never be taken away."
Deviate's Cassidy and Kelsey Tucker also knew their brand couldn't exist anywhere else. The sisters and Plymouth natives founded their unisex apparel and accessory brand in 2018 and immediately got to work making a name for themselves in the city while supporting other local talents. Deviate was among the businesses that partnered with the nonprofit Industrial Sewing and Innovation Center (ISAIC) last year to produce personal protective equipment, and it offers paid apprenticeships through BGCSM's Industry Club. The brand also has its own program at its atelier that gives creative talents a chance to work with the Deviate team. 
Deviate's latest collection, Stomping Grounds, pays homage to Detroit's creative entrepreneurs who are participating in the city's resurgence while respecting its rich history. "Detroit has an incredibly talented community of fashion and creative businesses who are also dedicated to a shared mission," Cassidy Tucker says. 
Whatever is next for Detroit's fashion scene, Reese believes the future is filled with promise. "I see opportunities for young people to be able to actually stay in Detroit and contribute some of their talent to this industry instead of having to move to New York or another fashion capital to find work and grow within their profession. So that's going to be beautiful," she says. "I just want Detroit to have a voice on the world stage and for it to be a really strong, unique, soulful voice."
---
This story is featured in the October 2021 issue of Hour Detroit magazine. Read more stories in our digital edition.