The Spanish fashion designer Paco Rabanne, best known for his space-age metal dresses, bestselling fragrances and eccentric pronouncements, has died at the age of 88.
His death was announced on Friday in a statement by the Puig group, which owns the Paco Rabanne brand. "I am profoundly saddened by the death of Paco Rabanne," the group's chief executive, Marc Puig, said in a statement. "Through his great personality, he transmitted a unique aesthetic and a daring, revolutionary and provocative vision of the world of fashion."
The house of Paco Rabanne paid its own tribute to the man it described as a "visionary designer and founder". It said: "Among the most seminal fashion figures of the 20th century, his legacy will remain a constant source of inspiration. We are grateful to Monsieur Rabanne for establishing our avant garde heritage and defining a future of limitless possibilities."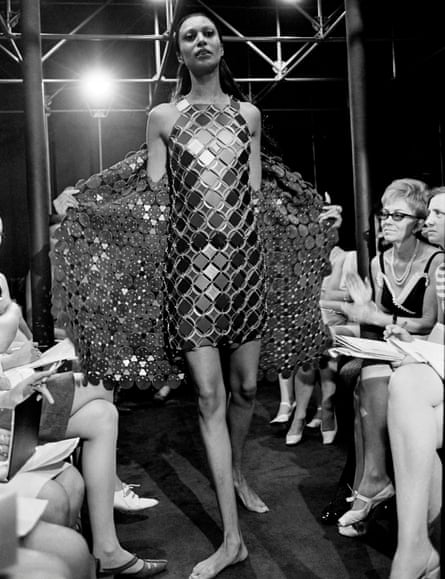 Rabann was, born Francisco Rabaneda Cuervo in the Basque Country in February 1934. His father was a Republican soldier who was killed by Franco; his mother was a "petit main", or couture seamstress, for Cristóbal Balenciaga.
Despite becoming one of the most famous fashion names of the 1960s, Rabanne came to fashion quite late. After studying to be an architect at L'école Nationale des Beaux-Arts in Paris in the 1950s, he went on to work in architecture for almost 10 years. During that time he dabbled in sketching, but it was not until the 1960s that he began making clothes and accessories.
He began by designing a small collection of large plastic accessories and buttons, which he sold to various couture houses, before showing his first fashion presentation in 1964 called "Twelve Experimental Dresses". Even then, he never saw himself as a pure fashion designer, preferring to work with interesting materials to create clothes that were as much engineered as designed.
He found notoriety two years later, in 1966, with his first couture collection, named "Twelve Unwearable Dresses in Contemporary Materials", ostensibly a series of minidresses made from plastic strips and discs held together with large metal rings. After the show, Rabanne declared to a shocked audience of French press: "Who cares if no one can wear my dresses. They are statements." The collection was panned but it put his name squarely on the map.
Alongside designers such as Pierre Cardin and André Courrèges, Rabanne was part of an emerging group of avant garde couturiers who matched traditional couture techniques with space-age design. Rabanne went one step further, preferring to use postwar materials such as plastics, metals and buttons and elaborate linking methods to create what was ostensibly armour for women. Coco Chanel once said of him: ''He's not a couturier. He's a metal worker."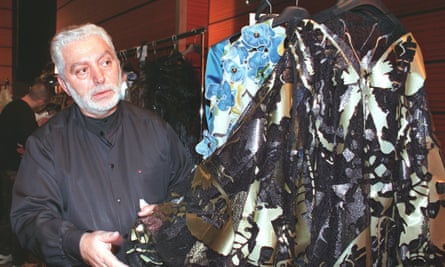 Rabanne's shows were always showstopper events, and he was one of the first designers to introduce soundtracks to shows. Along with Yves Saint Lauren, he was also one of the first designers to cast non-white models on the 1960s catwalk.
He retired in 1999, having at various points dressed Mia Farrow, Jane Birkin, Audrey Hepburn, Peggy Guggenheim and Jane Fonda. He is often erroneously credited with designing the costumes for the Fonda science-fiction film Barbarella, whereas in fact though his sci-fi aesthetic was a source of inspiration, Fonda's minidresses were designed by the French costume designer Jacques Fonteray.
Towards the end of the 1960s, he teamed up with the fashion and fragrance business Puig to develop the perfumes for which he later became well known.
Though his designs were untraditional, he once told WWD: "I'm one of the most classic creators of fashion."
At the end of the last century, Rabanne predicted that the Mir space station would plummet to Earth and devastate Paris. He also claimed to have arrived on this planet 78,000 years ago, leading some to nickname him "Wacko Paco".