This article is a part of CNN Underscored's Earth Week, a weeklong focus on our planet and ways to celebrate and preserve it. We'll be featuring tips on how to live more sustainably, products to help you spend more time in nature and exclusive deals all week, so check in every morning to see what's new, and be sure to subscribe to the CNN Underscored newsletter to see it all.
We're always on the hunt for fun, trendy and protective phone cases for you, and in this quest we've stumbled upon Pela Case, an accessories brand designing 100% compostable cases and accessories for the tech you use every day. After we went hands-on and tested a few of Pela's products (including phone cases and watch bands), the brand has earned a spot in our favorite tech accessory brands.
In an effort to learn more about all of the sustainable initiatives going on with Pela, we sat down with Gareth Everard, Pela Case's chief marketing officer. He talked us through all of the details of Pela's sustainability efforts.
"We're considering every step of the process, from offsetting carbon emissions of production factories down to deciding between air or ocean shipping," says Everard. "Shipping our product via air travel has a higher environmental impact than ocean travel, and even if it means shipping is a little slower, we're going to choose the most sustainable option every time."
Everard also explained how Pela moved production to be as local as possible to the company's base in Canada in an effort to reduce carbon emissions from shipping and have more control over all aspects of production.
Pela Case is a carbon-neutral company and a certified B Corp. It's making active efforts in the entirety of its production process to offset carbon emissions, reduce water usage and reduce the production of waste. Plus, a percentage of every purchase is donated to Ocean Cleanup and Preservation Initiatives.
What makes Pela cases unique

So, what exactly makes Pela Case different? As we mentioned earlier, most of Pela's products are 100% compostable (and for the select few products not 100% easy to compost, Pela has a return program so they can be properly reused or recycled). The cases are made of the brand's signature Flaxstic. Made from a combination of flax shive and other plant-based biopolymers, the case is soft, flexible, durable and protective for your device.
"Plant-based materials like flax just made sense when it came to looking at changing the mobile accessories industry," says Everard.
If you look closely at a Pela case, you're able to see the texture and speckling of the flax plant, which gives the case a natural and organic look. It has the feel of a silicone case without the harmful plastic waste. When you're done with your case, you can toss it into your home's compost system or send it back to Pela through the Pela 360 program. It's a win for you and a win for the environment.
While Pela is already offering a wide range of products, Everard said he's excited about future product lines.
"Long term, we're looking at laptop cases, furthering our iPad and Android case collections and being ready to go when the next new phone comes out," says Everard. Pela has also recently expanded its brand to include Lomi, an at-home composting device that turns your organic waste (and old phone cases) into dirt, but more on that later.
While Pela's products are admittedly on the higher side when it comes to phone cases, you can expect big savings during the Pela Earth Day sale, which Everard dubs "the Black Friday sale of Pela."
Whether you're looking to update your phone case, watch bands or even your sunglasses, we've rounded up some great Pela accessories that are both stylish and sustainable (we've tested and loved the phone cases and watch bands).
Everard's favorite pick from Pela? "Easily AirPods cases. They fit perfectly and feel great."
Phone cases

This case enhances the classic Pela Case design with an etched drawing of a mountainscape. The soft blue-gray phone case adds a chic but muted color to your iPhone. We like the way the design doesn't overwhelm the case and is reminiscent of the beauty found in nature.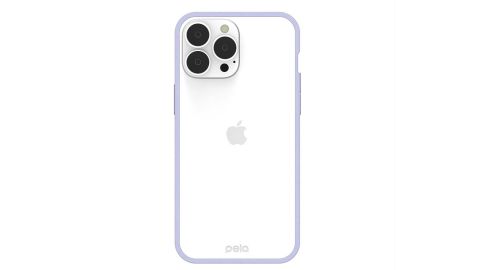 If you're not into bold designs but still want the protection of a phone case (plus the knowledge you're helping to protect the planet), this clear case is a great pick. The side bumper gives a splash of color (you can choose from black, blue, green, purple or tan), while the back of the case is completely clear.
This is the classic Pela case. Simple yet sleek, this case features a somewhat speckled pattern packed with details. You can choose between four colors for your Samsung Galaxy S22: classic black, forest green, lavender and a deep blue.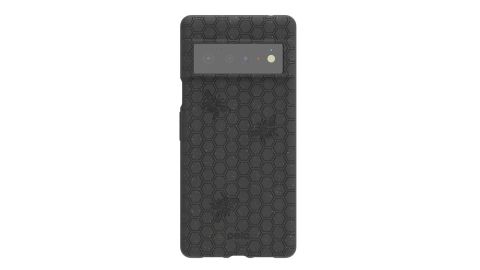 This whimsical black case is detailed with a beehive pattern and a couple bumblebees. It's built to protect your Pixel 6 from scratches and drops, and we like the honeycomb engraving for its simple but cute aesthetic.
Pela's classic case is also available for the iPad, built to protect your tablet from dust, dirt and scratches. It's available in black, lavender, a deep green and an ocean blue, with a small peephole in the back of the case to showcase the Apple logo.
Tech accessories

This Pela strap lets you swap out your watch bands for a more sustainable pick. You can choose from a stormy blue, lavender, forest green, black or light gray band. The soft Flaxstic material is comfortable for daily wear and throughout workouts. We haven't gotten our hands on these watch bands, but we were fans of the material in our Apple Watch band testing.
We tested the Vine Watch Bands back in 2020 and were immediate fans. The material is comfortable on the wrist and easy to swap out with other band options. Since our original testing, the range of colors has expanded, and we're excited to see both bright and muted options.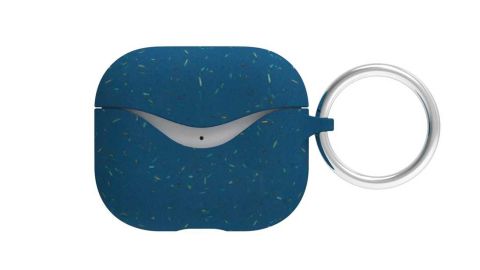 Protect your AirPods with a simple case from Pela. The case is available in six different colors, and all of the colors coordinate with other phone cases Pela offers. We love the idea of coordinating your accessories for a cohesive look and overall sustainable vibe.
Available in the same six colors, this Pela case is built to protect your AirPods Pro from bumps, dust and scratches while in your bag and on the go.
Keeping your AirTag secure is easy with this pick from Pela. It features a durable metal loop to fasten onto a suitcase, purse, backpack or pet collar. If your AirTag has been personalized, you'll still be able to show it off with the open-face design.
An eco-friendly alternative for a regular phone grip, the Pela Grip is made of the same Flaxstic material as the company's cases. It has an adjustable loop for added comfort throughout use and comes in nine colors you can coordinate with your phone case.
This card holder sticks to the back of your phone case and can hold up to two credit cards or ID cards. Choose to match it with your Pela case or add a pop of color to your device with one of the seven different color options.
While we haven't gotten our hands on this liquid screen protector just yet, we're extremely intrigued. It comes in a reusable vial and has enough liquid to provide protection for up to three phones from scratches and cracks.
Lomi

Lomi is Pela's newest and most exciting product yet. While Pela's products are compostable, not every city or neighborhood has an efficient composting program. Enter Lomi. The household device takes food scraps, old phone cases and other organic, compostable materials and turns it into dirt that can be used for indoor and outdoor plants and gardening. You can also break down certain bioplastics (Lomi provides a list of approved options). It's an even fuller extension of Pela's mission to reduce waste and make it easier to act sustainably.
Everard talked us through how Pela worked with engineers and soil scientists to ensure Lomi's output is safe and eco-friendly. It's a neater and more aesthetic way to compost and reduce your food and bioplastic waste. And, while Everard is stoked about Lomi's first launch, he said we can expect to see even better upgrades as they work to make composting that much simpler and accessible.
Lifestyle accessories

This card keeper is an easy and eco-friendly way to carry around your cards. It's lightweight and thin and can hold two cards. It'll easily slide into a pocket, and it comes in five different colors.
With screen time at an all-time high these days, blue-light glasses are a great option for protecting your eyes throughout long days of Zoom meetings and social media scrolling. These traditional round frames are available in three colors.
A more retro option, these blue-light glasses feature a thin metallic frame that comes in three different finishes.
The Montenegro Squares are a trendy and fun shape. The frames come in four different colors, and the lenses change their translucent shade depending on the frame as well.
Another trendy option with a retro design are the San Marcos sunglasses. The oval shape is hip and cool. You can choose between gold and silver frames.
A classic round sunglasses design, the Sulu sunglasses come in five different color options, ranging from a classic tortoiseshell brown to a lavender tone.