Kate Middleton is known for her habit of rewearing outfits or pieces from her wardrobe sometimes 10 years apart. This is attributed to the duchess's interest in following sustainable practices but sometimes outfits just appear to have been so successful she decided to wear them twice.
One notable occasion where she has made a habit of doing this is at the annual Easter service held at St George's Chapel, Windsor.
Each year, prior to the pandemic, the movements of Queen Elizabeth II were very strict. For Christmas she would move her royal operations to Sandringham, in Norfolk in eastern England. For summer she would be based at Buckingham Palace, and at Easter the monarch and her staff would move to Windsor castle, west of London, for what was known as the "Easter Court".
Since the pandemic the queen has adopted a new hybrid working model which sees her undertake video conference engagements and receive official visitors from Windsor Castle.
Though the shape of the 95-year-old queen's calendar may have changed, she is still expected to participate in the traditional Easter Sunday church service which is attended by various members of the royal family each year including, on occasion, Kate.
2017
Kate made her first appearance at the service in 2017—the years previous she had either been on tour with Prince William or reportedly on family holidays. The duchess wore a cream coat dress and hat with matching accessories as she and William joined the queen, Princess Anne and their royal cousins.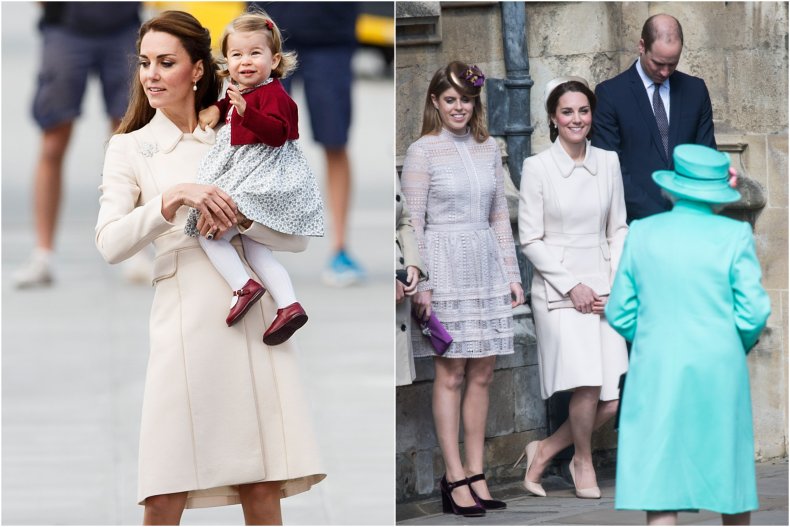 This was the second outing for Kate's cream coat dress which formed a part of the wardrobe for her official tour of Canada the previous year. Designed by Catherine Walker & Co., the piece is sharply tailored and has its aesthetic and technical roots in classic English menswear.
On its first outing the coat dress played a pivotal role in Kate and William's tour of the west coast of Canada. The importance Kate placed on the outfit was shown when it was used as the final look of the entire tour.
Accompanied by her husband and their two children, Prince George and Princess Charlotte, Kate wore the cream Catherine Walker coat dress with a diamond brooch loaned from the queen pinned to it as her going-away outfit leaving Victoria Harbour Airport.
For the 2017 Easter Sunday service, Kate paired the coat with a clutch bag by Etui, shoes by Rupert Sanderson and diamond and pearl earrings from the queen's collection. To finish off the look, Kate wore a pillbox hat from Lock & Co hatters in the "Jacqueline" style which has strong links to a style worn on numerous occasions by Princess Diana.
2018
For the 2018 Easter Sunday service at St George's Chapel, Windsor Castle, Kate rewore an outfit she had debuted in 2015 for the annual Irish Guards 1st Battalion St Patrick's Day parade. The duchess wore a dark brown loose-cut coat dress by Catherine Walker & Co. with a brown pillbox hat in the style 'Betty Boop' from Lock & Co.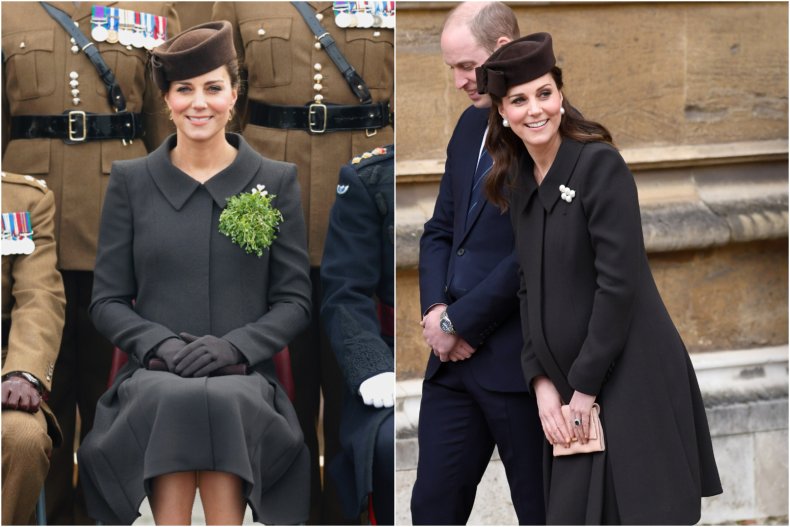 This piece counted among Kate's maternity occasion wear collection and when it was debuted at the St Patrick's Day parade in 2015 she was expecting her second child, Princess Charlotte. At the time of the 2018 Easter service Kate was pregnant with her third child, Prince Louis, and so the coat was reintroduced into her wardrobe.
The coat itself features princess seaming up the side fronts and box pleats to allow for a wider coverage of material in the skirt. Kate wore pinned to the coat a large brooch featuring five large faux pearls, matched with button pearl earrings from Balenciaga.
2019
To the last Easter Sunday service held at Windsor Castle before COVID-19 restrictions led to the cancellation of the services in 2020 and 2021, Kate wore an outfit which she had worn at another Easter event five years earlier.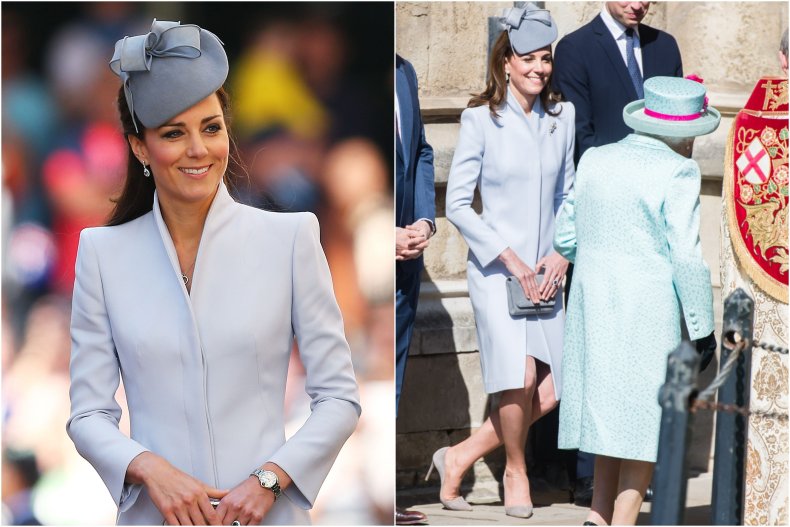 On their royal tour of Australia and New Zealand in 2014, William and Kate attended an Easter service at St Andrew's Cathedral in Sydney. For the occasion Kate wore a dove gray Alexander McQueen coat dress with a standing collar and princess seaming.
With the coat the duchess paired a gray custom hat by London-based Jane Taylor Millinery. For shoes Kate wore a trusted pair of L.K. Bennett suede heels and she carried a clutch bag with a diamond skull detail by McQueen.
Kate apparently liked this look for an Easter service as she replicated it in 2019, including the Jane Taylor Millinery hat. On this occasion though, Kate paired the look with gray suede shoes and a clutch bag from one of her favorite accessories designers, Emmy London.
For jewelry, Kate wore pieces closely associated with her own family. She wore the diamond and acorn earrings that had been given to her by her parents to wear on her wedding day—oak leaves and acorns featuring on the Middleton family crest. The duchess also wore a diamond oak leaf and acorn brooch which is speculated to have been presented to her as a wedding present.
The last three royal family Windsor services have shown that Easter is a time where Kate goes into her closet and revisits some of her old and most successful looks, updating and reinvigorating them for a modern outing.