Whether we like it or not, winter is here. No matter if you live in a northern state and have already received your fair share of snow or you live on the west coast and shiver when the temperature drops below 60, puffer jackets have become a popular go-to for braving frigid temperatures.
We talked with Iowa State University associate professor Kelly Reddy-Best and retired University of Rhode Island professor Margaret Ordoñez about how to best care for a puffer jacket, and what features to keep in mind while shopping.
In addition, we spoke with Jessica Ek of the American Cleaning Institute and technical apparel designer Alexandra Dean about distinct features that make a puffer jacket different from other outerwear and how to specifically care for this style.
What is a puffer jacket? | Warmth | Care tips | Shopping tips | Noteworthy features | Storage tips | Shopper-loved jackets | Meet the experts
What is a puffer jacket?
In short, puffer jackets are coats typically made out of polyester and nylon fabrics. This jacket style also contains a little bit more insulation compared to rain jackets, slimmer winter coats and trench coats.
"Polyester and nylon fabrics have longer fibers and are more durable," said Dean. She also noted that puffer jackets "perform better with adhesive applications," meaning they are waterproofed and down proofed to prevent feathers from escaping the jacket.
Are puffer jackets warm enough for snow?
Take a look at the tag to judge whether or not a puffer jacket will be warm enough for the winter climate you'll be in. It'll usually be your go-to for important features that can give you a clue as to how warm you will be while wearing it.
"Many companies do extensive research and development and communicate this on the hang tag," Reddy-Best and Ordoñez said, mentioning that this can be a one-stop shop for knowing right off the bat whether or not a particular jacket meets even your most basic needs, such as insulation, layers and comfort.
The first thing to take a look at is the amount of fill it has. The higher the fill, the warmer the jacket will be, according to Dean. The fill power rating in a puffer jacket ranges from 400 to 900, with 900 being the warmest a puffer jacket can be. Another word that is synonymous with fill is down loft, noted Dean. The same rules apply, where a higher down loft rating number means more warmth.
How to take care of and wash a puffer jacket
According to Reddy-Best and Ordoñez, reading your puffer jacket's care label is the best way to go about maintaining its quality. If you're hesitant to wash an expensive product on your own at home, "test an area of the jacket in an inconspicuous area," they both advised.
"Often the inside of the pocket will be the same material as the outside, making it a good place to test," added Ek.
"Puffer jackets and coats have either down from geese or ducks or a synthetic filler," Reddy-Best and Ordoñez said. "Both types of filler are machine-washable at home or by a professional cleaner, but some labels on down jackets warn against dry cleaning."
When washing your jacket at home, "a second rinse would be a good choice in this case," Reddy-Best and Ordoñez also advised, just to be sure that the coat is clean.
How often you should wash your puffer jacket is determined by two factors, according to Reddy-Best and Ordoñez: how often you wear it and what activities you're doing in it.
"It's probably good practice to [wash] it at least once a month," Reddy-Best said. "A lot of people don't clean their winter coat; it's not something you readily think about a lot. We have a lot [of] layers between us, our bodies and the coat, so we wash the garments that are closest to our skin a lot. But the things that are a next layer out, you might not wash them as much."
An odd practice they say can work against germs? Putting your coat in the freezer.
"It depend on how big your freezer is, but you could freeze your garments and that can kill some bacteria," said Reddy-Best. Placing it in a trash bag and then into your freezer "can reduce smell" as well.
Another zany trick to try? Putting tennis balls in the dryer with your puffer jacket. This helps to "maintain the lift in the insulating material" of the jacket, according to Ek. "That air is part of what helps keep you warm," she said.
The one product they recommend as an absolute no-go on puffer jackets? Chlorine bleach.
"Chlorine bleach should be avoided on all down-filled jackets and coats," Reddy-Best and Ordoñez both advised, explaining that the bleach could erode or wear down the fabric. While it might be your first instinct to reach for the bleach as a fast-acting stain remover, one of the most common problems dry cleaners face is reversing damage done by at-home cleaning remedies.
"Professional cleaners could be a good choice for treating major spotting and soil; they report that often they are faced with working on failed home-spot-removal techniques," they both mentioned.
How to shop for a puffer jacket or coat
Due to its cost, a puffer jacket is most likely going to be an investment, meaning you'll want to do research and take time to decide what features are important to you when buying. As mentioned earlier, stand-out features are oftentimes noted on the tag.
"Some jackets have coatings or finishes to increase water repellency," Reddy-Best and Ordoñez said. "Paying attention to a coat's unique features can inform the consumer or can help evaluate a purchase price."
One of the features they recommend testing in-store is the zipper. As silly as it sounds, you want the zipper to work in order to fully benefit from the functions of the coat. If it doesn't fully zip, the insulation isn't able to trap warmth.
What other features should you look for in a puffer jacket?
"Having water resistance as a minimum on the fabric," said Dean, is a non-negotiable when it comes to puffer jackets, as well as "pockets sitting behind the fill so your hands stay warm."
"I also believe when designing a puffer, it's extremely important to use recycled materials at this time — virgin materials weigh heavy on the earth and there are better choices that can be made with lower impact," said Dean. A large brand that utilizes this practice is Patagonia, whose down hoody is made with 98 percent recycled materials.
How to store your coat during the off-season
The first step you should do before stuffing your puffer jacket in a coat closet during warmer months is to clean it. Then, when you're ready to store it, make sure to do so in a "dry place, ideally laying flat," according to Reddy-Best and Ordoñez. Ek also recommends laying it flat, as this helps to "manually fluff" the coat.
Reddy-Best and Ordoñez recommend storing it in a place "where the temperature and humidity have little variation" such as a front closet. This way, since it's not stuffed in a tote or in a packing cube, the filling won't clump.
Best puffer jackets, according to shoppers
From hot pink to neon green and a range of neutral colors, this Gap puffer jacket can serve as a bold statement or help you blend in with the snow. With a waterproof exterior, walking through the slush and rain will prove to be no challenging feat in this puffer. "I love the lightness of this coat," said one reviewer, with many adding that while the crop is a main feature, it sits right at the hip.
Amount of insulation fill: N/A
Fill material: 100 percent PrimaLoft® P.U.R.E.™
Amount of loft: N/A
Layers: Quilted exterior and a down-filled interior
Water-resistant: Yes
Unique features: A detachable hood and drawstring cord to tighten or loosen jacket
Carhartt Montana Relaxed Fit Insulated Jacket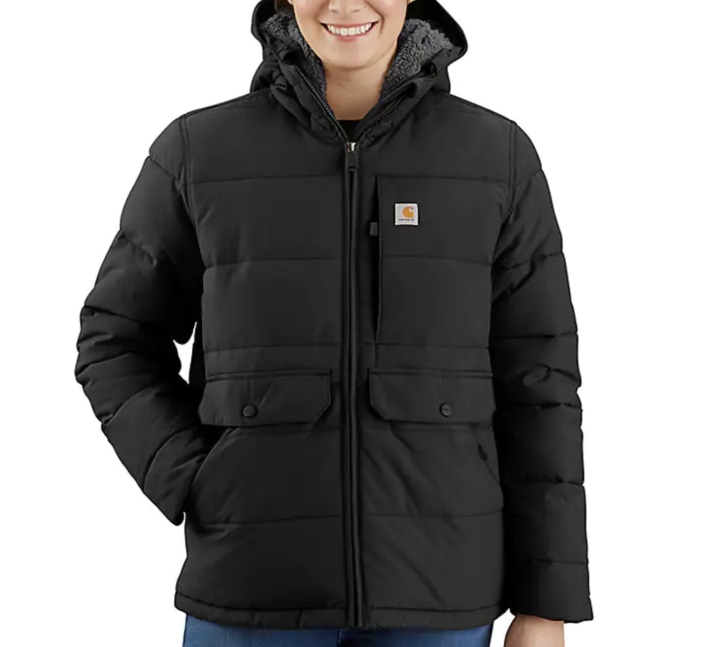 Commonly known for their trademark "Carhartt Brown," this puffer jacket is a different take on the blue-collar bomber jacket many turn to the brand for. Reviewers recommend sizing down, as the 'relaxed fit' portion seems to reign true. The upper half of the coat, as well as the hoodie, are lined with sherpa material for additional warmth. "I love this coat! Very nicely made and perfect for the rain and cool fall weather," said one reviewer. Plus, it has both internal and external pockets, perfect for fitting all the necessities.
Amount of insulation fill: N/A
Fill material: Synthetic, polyester insulation
Amount of loft: N/A
Layers: Synthetic, polyester insulated layer, a sherpa fleece-lined interior and a nylon exterior
Water-resistant: Yes; Carhartt's trademarked, water-repelling 'Rain Defender' technology means light rain and water "bead up and roll right off" this puffer jacket
Unique features: A sherpa fleece-lined hood, a zip chest pocket for storing phones, wallet or keys for easy access
According to the brand, this Columbia puffer jacket runs true to size, so consider sizing up if you're looking to layer. If you don't like hoods, this one unbuttons and can snap back on depending on the activity. "Love this jacket! This is exactly what I was looking for," said one reviewer, who uses it for skiing and snowboarding.
Amount of insulation fill: 700
Fill material: Polyester; fill is Responsible Down Standard certified, meaning products with this down advocate for better practices for animals in the down and feather supply chain
Amount of loft: 700
Layers: A nylon exterior, polyester-insulated interior, heat-reflective exterior lining
Water-resistant: N/A
Unique features: Elastic cuffs at the wrists, detachable hood, adjustable drawcord at waist
The North Face Hydrenalite Down Hoodie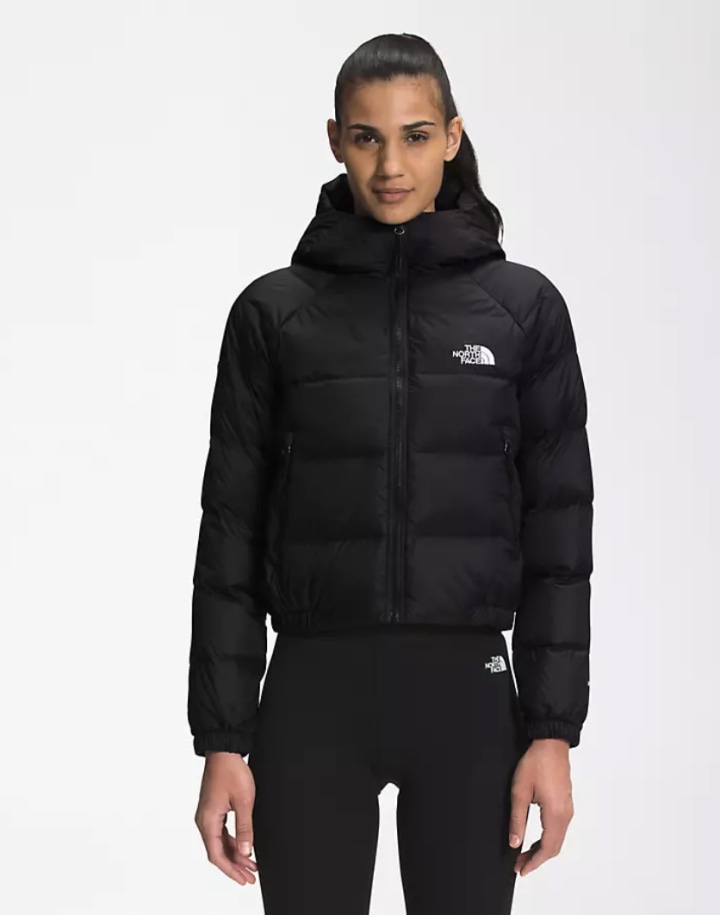 A popular and trending pick, especially on college campuses and in buzzing cities, the North Face Puffer has nearly 400 verified five-star ratings on the brand's site, with reviewers raving about this "perfect" puffer. Lightweight and warm, the brand claims that with the hood up, this jacket is windproof, helping those in even the coldest climates walk to their destination. This is a "must-have for winter adventures," according to one reviewer.
Amount of insulation fill: 550
Fill material: Goose
Amount of loft: 550
Layers: Nylon lining, goose insulation
Water-resistant: Yes
Unique features: Three-piece insulated hood, elastic cuffs at the wrist and waistband
Patagonia Fitz Roy Down Hoody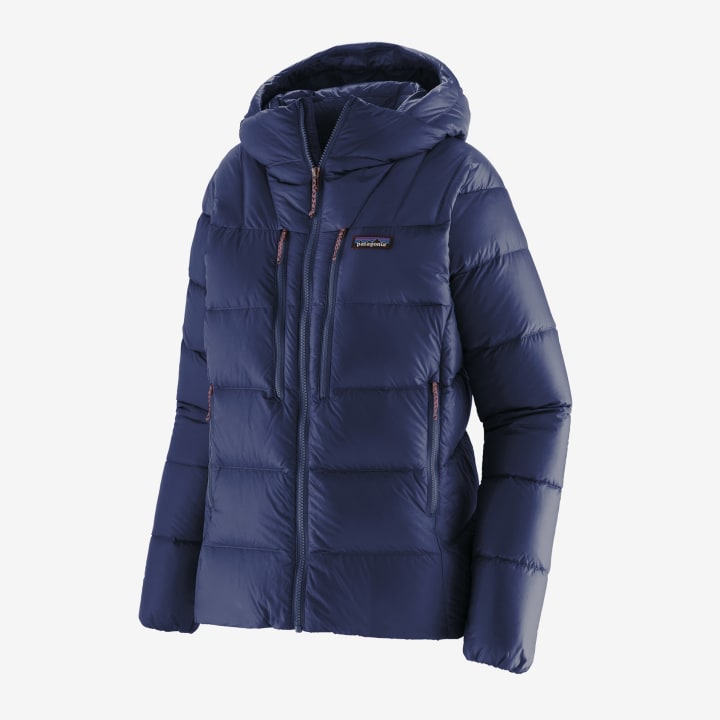 This Patagonia puffer folds down into its own zipper pouch, perfect for ski slope days, traveling and storing during warmer months. Reviewers recommend sticking true to size, as you're still able to layer underneath and remain comfortable. "Cannot say how much I love this coat. So functional with many zipper pockets, and inside pockets, pull cords- the features are incredible," said one reviewer.
Amount of insulation fill: 800
Fill material: Brand does not specify; however does include that the fill is Responsible Down Standard certified, meaning products with this down advocate for better practices for animals in the down and feather supply chain.
Amount of loft: 800
Layers: Recycled Nylon exterior, internal storm flap,
Water-resistant: Yes
Unique features: Helmet-compatible hood, meaning a bike helmet can fit underneath it, single-pull hood drawcord, an internal "catch-all" pocket
Aritzia The Super Puff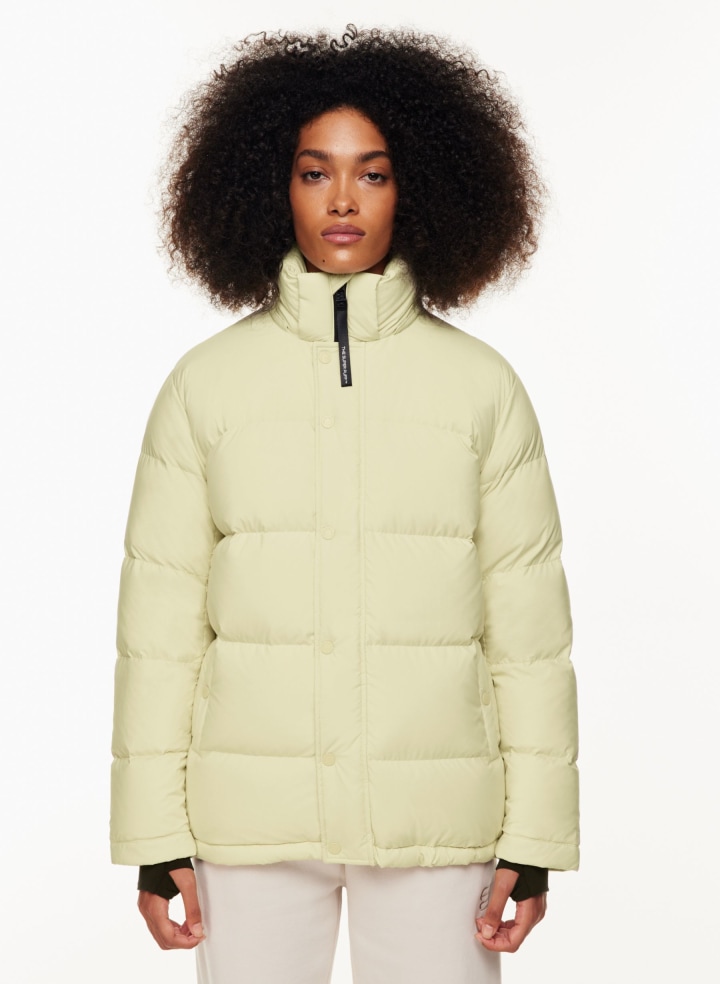 Available in a whopping 56 different shades, The Super Puff from Aritzia is also available in five different styles, depending on the length and design you prefer. From the Shorty to Long Super Puff, you can purchase the warmest option for you. "Best coat on the market, bought it for my twin daughters as we live in Alaska and this is by far the comfiest, warmest everyday coat," said one reviewer.
Amount of insulation fill: 700
Fill material: Goose; fill is Responsible Down Standard certified, meaning products with this down advocate for better practices for animals in the down and feather supply chain.
Amount of loft: 700
Layers: Brand does not specify beyond the exterior, and goose-insulation fill
Water-resistant: Yes
Unique features: Detachable hood, thumbholes in the included storm cuffs, 'cinchable' waistband
What can't Lululemon make? This puffer jacket covers your bum, has the option to cinch at the waist and hem to prevent drafts and is made out of waterproof material, meaning even the snowiest of days won't get you down. This coat is so good, it has one reviewer "anxiously waiting for snow," with others stating that it's "stunning," "warm" and "comfortable."
Amount of insulation fill: 600
Fill material: Goose down and feathers; fill is Responsible Down Standard certified, meaning products with this down advocate for better practices for animals in the down and feather supply chain.
Amount of loft: 600
Layers: Polyester interior linings and body
Water-resistant: Yes
Unique features: Detachable hood, interior cuffs, adjustable drawcord at the waist
Meet the experts
Kelly Reddy-Best is an associate professor of apparel, merchandising and design at Iowa State University. She is also the curator and director of the university's Textiles and Clothing Museum.
Margaret Ordoñez is a retired professor of textiles, fashion merchandising and design from the University of Rhode Island.
Jessica Ek is the senior director of digital communications at the American Cleaning Institute. She previously talked to Shop TODAY about laundry stripping and how to properly wash your baseball caps.
Alexandra Dean is a technical apparel designer based in Canada who has worked with brands like Lululemon and Outdoor Voices.