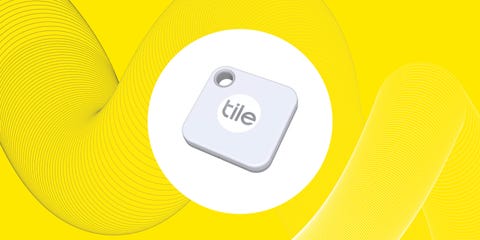 Tile
For car people, keychains are more than just jingly rings of metal—they're the connection between us and a lovely Sunday cruise. But like anything with cars, we like to personalize, so why not our keychains too? There are tons of tiny products out there to add to your keychains that can be useful and/or cool without being too bulky.
We searched Amazon for some neat little additions to your keychain for this list. They're all designed to fit in your pocket and be light enough to not damage your ignition switch over time. So channel your inner high school janitor and get jingling!
18 Slick Wallets from Amazon for Car Lovers
---
Advertisement – Continue Reading Below
Tile Bluetooth Tracker
These little Tile trackers can be incredibly useful for those who often misplace keys (don't we all?). By using Bluetooth, your phone can locate the Tile via the free app. The battery usually lasts around one year and can be easily replaced at home. 
Apple AirTag Leather Holder
For hardcore Apple fans, consider getting the AirTag. Similar to the Tile, it connects to your iPhone through the Find My app. If the Tag is farther away, Apple then utilizes its Find My network to notify you if your Tag is detected. Be aware that this product does NOT include the Tag, and is just the leather holder—buy the AirTag separately. 
Keychain Multitool
Since your keys are usually on you, add this multitool from Keyport in case you need it. It features 10 different tools ranging from a bottle opener to a 3/8-inch wrench. It's stainless steel, weighs just half an ounce, and is TSA friendly for the airport.
Keychain Pepper Spray
This keychain-sized sprayer from Sabre is one of the best on the market. Trusted by law enforcement everywhere, Sabre's pepper spray formula is built to hit hard. This sprayer features a quick-release key ring for maximum draw speed.
Sauce 2 Go
Want to dunk your McDonald's chicken nuggets in Chick-fil-A sauce? Now you can with these handy Sauce 2 Go keychain containers. Just fill up with your favorite sauce, screw the lid back on, and you can wield the power of any sauce, any time.
Chug N' Plug
The Chug N' Plug makes shotgunning your favorite beverage a breeze. Rather than using your thumb to break the outside of the can and risking a slice, just insert this tool, pop the tab, and chug away. When you're done, it fits nicely on your keychain. 
Of course, if you're using this for alcohol, leave this for when the driving's all done. Don't drink and drive.
Porsche Crest
If you're lucky enough to pilot a Porsche, add this tasteful badge to your keychain. Produced as an original product from Porsche itself, the steel logo on leather backing is also available in blue and white.
Triumph Badge
For those who enjoy both the joys and struggles of driving a Triumph, this badge would look great dangling from your ignition switch. Made with solid brass and then finished with a high-polish chrome, it'll look real boss with your ride.
Manual Transmission Keychain
This sweet little gadget really appeals to those of us who like to fidget. It features a fully movable shifting mechanism, so you can drop a gear and disappear with a flick of your thumb. This set also comes with a bonus adjustable wrench accessory.
TRD Mini-Lanyard
To add a bit of personality to your Toyota's keychain, consider this TRD mini-lanyard. The logo looks sharp against the black leather strap, and it comes with a bonus carabiner. 
0-60 Eventually Key Tag
It's okay to admit your car is slow, and this key tag does that perfectly. The tag measures just over an inch long, so it won't take up too much pocket space. 
This content is created and maintained by a third party, and imported onto this page to help users provide their email addresses. You may be able to find more information about this and similar content at piano.io
Advertisement – Continue Reading Below
https://www.roadandtrack.com/car-culture/car-accessories/g37599246/cool-and-useful-keychain-accessories/